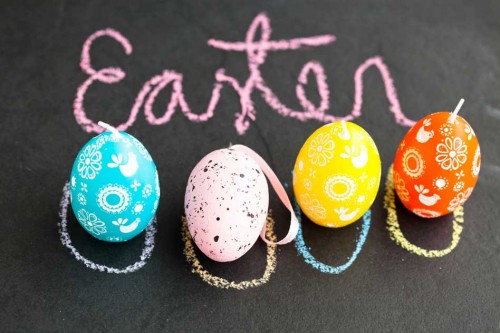 Its not long now until the Easter Bunny is upon us, and this means holidays for most kids.  Keeping everyone entertained over the Easter break can be a challenge, not to mention exhausting work for parents!  Here are 4 great Easter craft ideas which will keep your kids constructively entertained for hours on end.
Unique Easter Eggs
The age old conundrum of what came first, chicken or the egg, tends to get a good airing at Easter.  This fun craft activity tips everything on its head by making chickens out of eggs!  You will need blown eggs as the body of the chickens, so try and pick a range of natural eggshell colours, from white to tan brown and a few in between.  Now you will need to cut some triangles out of orange felt as the beaks, and some little feet shapes as well (2 per egg).
Use some strong adhesive to stick the beak on the egg, and the feet underneath so the egg sits on top of them.  The next step is to cut some red felt in the shape of a chickens comb (the red part on top of their heads).  Stick this to the top of the egg, draw on two little eyes and you have some adorable chickens that your kids will love to make.
Easter Bunny Masks
You can make a range of beautiful masks with very little expense.  A good place to start is to use plain white paper plates as the face, and simply cut out the eye holes.  Use some pink cardboard to make a nose and the pink inner-ear, and white cardboard for the main ear section.  You can use fabric if you have some on hand for a cute floppy-eared rabbit look.
Draw on the mouth, stick on some chenille sticks or white straws as whiskers, and attach an elastic strap to hold it securely in place for when the kids are running around wearing it.  The kids will love this fun and simple craft activity, especially when they can decorate their mask however they like!
Making Your Own Shirts
Your kids will love the chance to create their own customised t-shirts, and thanks to the ease of online printing, you can have store quality shirts ready in time for Easter.  Simply upload their drawings or designs and pick the colour and style of the shirt for printing.  Thats truly how easy it is to make your own t-shirt!  The older kids can create some seriously impressive graphic designs using a free program such as Inkscape, keeping them occupied for hours on end.
Easter Mini Pi±ata
Many families make blown eggs for Easter, but this cute little trick takes it one step further.  Once youve blown the eggs, make the hole at the top slightly larger and fill the egg with mini M&Ms.  Get the kids to create a range of bright little stickers to put on the egg, and use one of the stickers to cover the hole at the top.  Slip the finished egg into a pretty gauze bag, and your kids can give their friends a very special hand-made mini-pi±ata as their Easter present!
Keeping the kids busy these holidays will be a breeze with these simple yet fun Easter craft activities.  From gift ideas to creating their own shirts, theres hours of entertainment involved in these rewarding activities for all ages.
____________________________________
Guest Post  Written by Emma Jane
____________________________________
4 Easter Craft Ideas for Your Kids