Take a trip down memory lane.
Imaginative kids label My Arkadia is set to launch their Summer 2013/14 range that showcases creativity and fun in memory of a carefree childhood, in a range entitled Down Memory Lane.
Inspired by their own childhood memories that fellow children of the 80s would well relate to, Down Memory Lane draws upon the free-spirited times of riding your bike around your local neighbourhood, treats from the local corner store, games of pretend, hilarious and carefree mischief, exploring nature, retro toys, fun parks and storybooks that set your imagination alight.
Down Memory Lane features t-shirts, onesies, tights, and raglans with Arkadians unique blend of retro style graphics and nature inspired sketches, in a range of neon brights,coloured marles, neutral organic t-shirts as well as staple classic colours.
The range caters for bubs from 6months through to a kids size 8, with custom orders for other sizes also available. All Arkadian garments are made with boutique quality and designed for maximum comfort to move and play all day – some designs are offered in organic cotton too!
The range will be available for purchase through the My Arkardia website from 4th October 2013.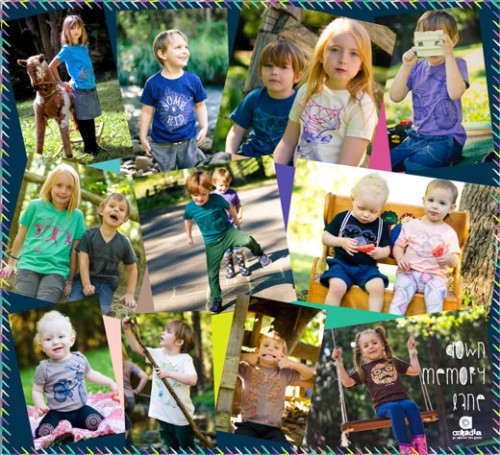 My Arkadia | Go Against the Grain
Arkadia was brought to life by Gold Coast t-shirt enthusiasts, parents and partners in crime, Ammber and Justin.
Arkadia is a label for kids and the young at heart, crafting apparel and lifestyle merchandise that inspires, amuses and enlightens. Committed to using quality garments,the designs are built to endure the rigors of adventurous kids and become heirlooms to pass onto future Arkadians. Using ethically made garments of exceptional quality as a canvas for these classic, quirky graphics! Each one has been lovingly designed and printed in Australia in small, limited edition print runs.
Online Store : www.myarkadia.com.au
Follow on Facebook : www.facebook.com/myarkadia