I love seeing behind the scenes of a creative business, finding out more about their creative process, how they actually create their products, what tools they use, how they come up with their ideas and where and what their studio looks like.  It's not being a snoop, I promise, it's just fascinating to see how all their creative processes come together to become the amazing handmade creations I see everyday on my mission to share and promote creative businesses.!
This week we have the pleasure of poking behind the scenes of four businesses who are all members of the Handmade Cooperative (there are over 70 members currently).
Bringing together a select group of 70 businesses that create handmade clothes and gifts for kids, at Handmade Cooperative we work together to support our dynamic community and to help spread the word for Australia's truly inspirational handcraft marketplace. Our community has a two fold purpose: (1) to celebrate and promote the best in Australian handmade kids clothes and gifts, and (2) to provide a safe and supportive network for like-minded businesses.
So let's meet and poke around behind scenes with- Kaetoo, One Busy Sloth, Schooza and Squiggly Monkeys! 
kaetoo
"What I love most about being creative is discovering new art forms and embracing new media. I adore any creative pursuit that allows me to embrace my love of colour and texture."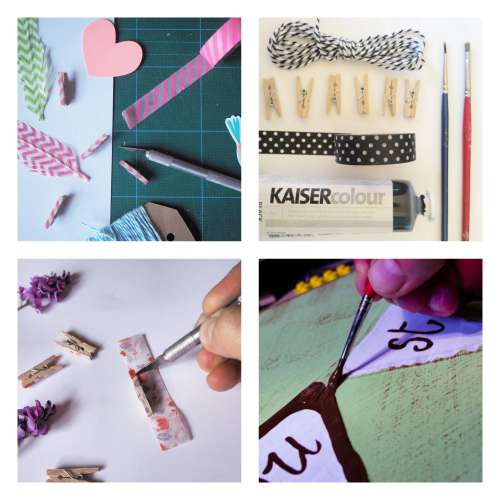 Follow kaetoo on  –  Etsy   |   Blog    |   Instagram  |  Facebook
One Busy Sloth
"What I love most about my job is that I get to play with pretty fabric everyday. It gives me so much joy to come up with designs that are not just beautiful, but practical for everyday use. That is the mantra that drives One Busy Sloth".
Follow One Busy Sloth on  –  Etsy  |  Madeit    |  Instagram  |  Facebook
Schooza
"I love being able to creative fun unique products that bring a smile to a child's face as they call 'hey mum how cool is this' or an adult as they recollect a childhood memory.  Having two boys myself I especially love creating fun products for boys  and helping children to disappear into the world of their imagination".
Follow Schooza on  –  Madeit |  Instagram  | Facebook
Squiggly Monkeys
"My most creative time is in the evenings after the children are in bed and I am free from distractions. I love to relax in the evenings on the couch in front of the TV with my husband and make my Squiggly Monkeys".
Follow Squiggly Monkeys on  –  Etsy  |  Instagram  | Facebook
Behind the scenes with the Handmade Cooperative
Would you like to be part of the Handmade Cooperative? Do you make children's products? Now is the time to apply –  their annual membership drive is on now till the 14th September 2015. Visit their website HERE for all the details.