Welcome to the first of our 12 special Handmade Christmas Gift Guides. Each day for the next 12 days we have a wonderful group of  handmade businesses bringing to you a selection of Australian handmade products – goodies for the whole family, kids, grandparents, teachers and your best friend.
Our first Christmas Elf to share their handmade finds is the lovely –  Little Alligator.  
Let's hear from Little Alligator about her great selection of gift ideas perfect for the BOYS.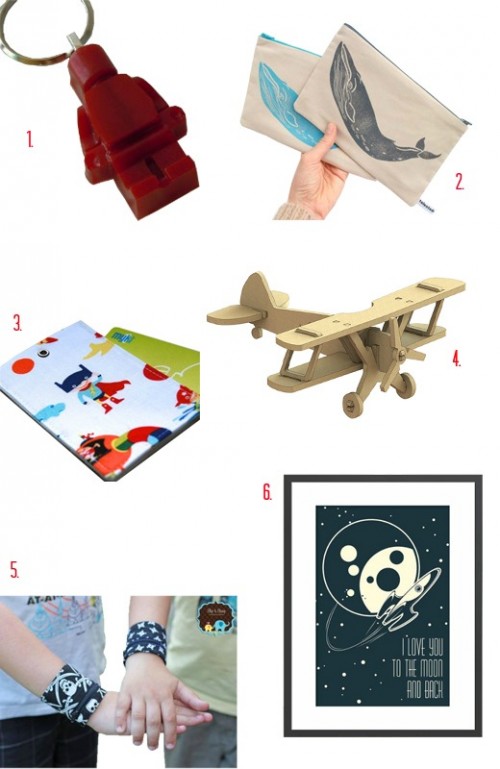 1- Lego Man Bag Tag from Resinating – Resinating is one of my favourite shops for young boys. Youll find the cool resin necklaces and key rings that your little man will love. Its also easy to pop a pair of earrings in the shopping cart for yourself while youre there
2-  Whale Purse  from Talented Apple –  I love this whale pouch and the other playful pouches Talented Apple stocks. Talented Apples shop is filled with beautiful homeware and clothing products made using screen printing and hand carved lino cuts. Check out the store for other great ideas for older boys and men too!
3- Super Hero Travel Pass Holder from Ditto Crafts –  These ID holders are a great stocking stuffer idea and I know our family need a few of them! Ditto Crafts is a fabulous shop with lots of practical little gifts for kids made using fun fabrics. They also carry fob chains, colouring wallets and drawing folios for boys too.
4 – Biplane from Byrne Woodware – I know my son would love to see this hanging in his room! Take a look at the other beautiful wooden mobiles Byrne Woodware stocks " the spacemen are another favourite of mine.
5- Wrist Cuff Wallet from Skip and Stomp – Now this is a nifty little wallet and a great idea for times when your kids want to carry a little of their money but need their hands free! Skip and Stomp also stock other fun things for kids like I-spy bags and balloon balls.
6- I love you to the Moon and Back Print from Dee Dub Designs – This fabulous print would make such a lovely present for boys of all ages. Wander through Dee Dub Designs store and youll find more beautifully designed prints, homewares and invitations " for both grown-ups and kids!
Little Alligator creates beautiful, durable and versatile drawstring bags using designer fabrics and quality materials with an emphasis on fabric designs that are fun for kids as well as stylish for adults.

Their range includes library bags, toy bags and wet bags / swim bags with an option to personalise all library bags with unique hand stamped labels.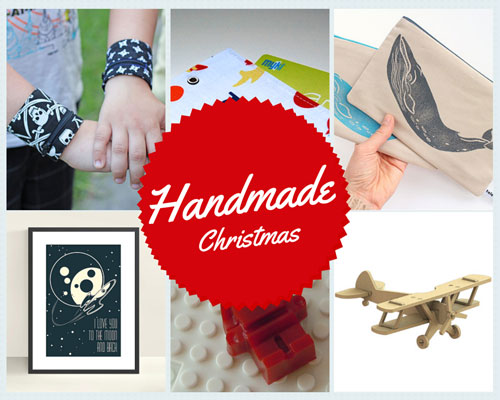 Hope you enjoyed Day 1 of our – 12 Handmade Elves of Christmas. 12 Days of handmade gift guides – lets shop Australian Handmade this Christmas.  #12handmadechristmaselvesHMK