Welcome to Day 10 of our Christmas Gift Guide series. Today we have the lovely Lauren from Molly and Mama with her great gift ideas.
"Hello lovers of handmade! Its Lauren here from Molly and Mama.  When I think of Christmas, I always think of gorgeous handmade creations. And theres nothing more special than giving a gift you have made yourself, or a gift that will inspire others! You could use any of these pattern and kit suggestions to create your own Christmas keepsakes for your family. Or surprise a friend with a very personal gift that is sure to be treasured always".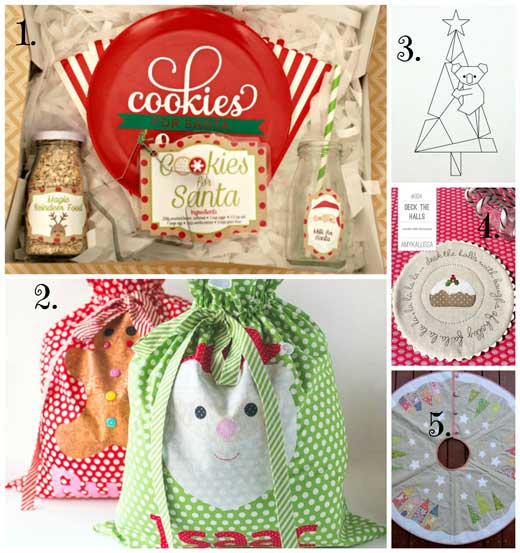 –  Lauren from Love a Rhino has created the perfect Night Before Christmas Kit that contains everything you need to create a magical Christmas eve. This is a lovely gift for neighbours or for friends with little ones. Imagine the excitement!
–  All the kids in your family can have their own personalised Present Sack with a Santa or Gingerbread applique. The very clever Jemima from Tied with a Ribbon has created this instant download pattern with lots of instructions, images and illustrations. Create one for your nieces and nephews too. Or gift the pattern to Grandma " hint hint!
– These cushion covers are the perfect Christmas accessory for home, and one that your kids will be sure to love. Use the included fabric markers to colour in and personalise the design. So unique!
– Looking for a beautiful and precious gift for mums, aunts and Grandmas? Amy Kallissa has created a PDF pattern for the most adorable table decoration. Deck the Halls with appliqued plum puddings and hand embroidery!
– Make a Christmas tree skirt using this adorable PDF sewing pattern from Claire Turpin Design. I love the little appliqued village design! You could sew one to match your own Christmas decor and gift one to a friend!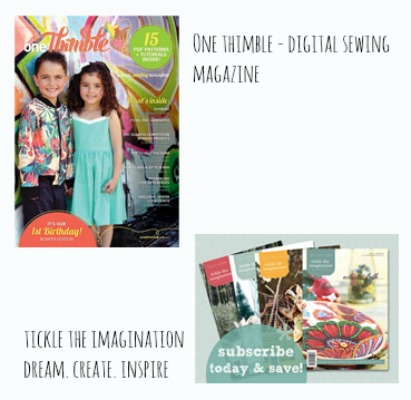 6 + 7 –  An Aussie Magazine subscription for lovers of handmade.
There are two absolutely fantastic Aussie magazines that I'm so passionate about sharing with everyone! And a subscription to either magazine would make the perfect gift, because it will continue to inspire all year!
– One Thimble is a digital sewing magazine that is in PDF format. Perfect for sewists of all levels, every edition contains a beautiful range of PDF patterns, articles to help your sewing soar, discount codes, and even tips for handmade business owners. Excellent value for money, a subscription to One Thimble is the ultimate gift!   One Thimble Sewing Magazine – One thimble subscription.
– Tickle the Imagination print and digital magazine celebrates all things handmade and creative in Australia. Its full of inspiration, ideas, and projects that will help spark and inspire your creativity! Visually stunning, a print copy makes the perfect coffee table book. Why not treat yourself and pick up a subscription? But its also an absolute ˜must have for the crafty people in your life so it makes a perfect Christmas gift! Tickle the Imagination Magazine " ˜tickle subscription.
To find out more about Molly and Mama, visit the blog. You'll find free sewing tips and tutorials including this adorable felt Christmas mouse.

The full range of instant download PDF patterns is available in Molly and Mama's Etsy shop.  I'm offering a 10% discount to all Handmade Kids readers from the 28/11 until the 5/12. Just use the code ˜HandmadeXmas at the checkout.

Or pop by the store for ready made Christmas creations and custom t-shirt orders  www.MollyandMama.com.au

Happy Christmas to all the crafty creators out there! I hope you find some inspiration! Lauren x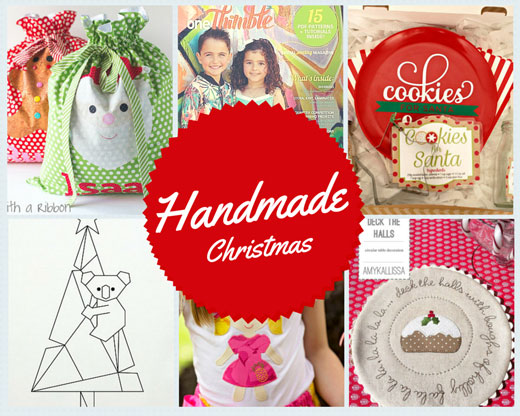 Hope you enjoyed Day 10 of our 12 Handmade Elves of Christmas. 12 Days of handmade gift guides. Let's shop Australian Handmade this Christmas. #12handmadechristmaselvesHMK