Welcome to Day 6 of our Christmas Gift Guide series. Today we have the lovely Robintail with her selection of super cute gift ideas for a special Christmas. 
1- Je T'aime Dress Baby Doll Dress from Pretty Parcel – Perhaps a gift for yourself, Shannon's gorgeous work always makes for a very Pretty Parcel. Her pieces are high quality, well made and just plain fun! I love this one because there is an air of the Nutcracker about it however in warmer places this season, her Watermelon Wednesday skirts would also be an ideal Christmas day outfit.
2- Inspiration Necklace from Dear Delilah – "She took a leap of faith and found her wings on the way down" is one of my favourite inspirational quotes! The necklaces Katie lovingly creates are typed on her vintage typewriter meaning each piece is as special as the recipient. This one would be great for girls and women of all ages.
3- Pretty Posie Earrings in Peach from Megsy-Jane – These are a favourite of mine so I just had to add them to the list! The feminine charm is delightful and the who doesn't love a bit of rose, sparkle and gold?  A great gift for women of all ages, they also come in a beautiful gift box so the hard work is all done!
4- Panda Felt Toy from Plushka's Craft –  Katia's pieces are stitched by hand, which I think is pretty special! Her designs are also unique and oh so cute – I'm certain this Panda in black and white would be suitable for both boys and girls..and not necessarily restricted to being a child-only gift..he would also be a delightful addition to any modern decor!
5- Pink Deer Christmas Card by Mulberry Muse–  I absolutely love Wendy's amazing designs. Her gorgeous illustrations and quality of work are the reason her cards, gift tags and prints bring so much joy to the heart – this lovely deer card would be perfect for someone special and will remain a keepsake they can frame later – a gift & card all in one!
6- Gold Rush Ballet Moccs from Hubble and Duke– These teeny tiny ballet moccs would be an ideal Christmas gift for a baby girl, the stunning gold has a luxe look and will go with almost any outfit. A perfect size for slipping into baby's first Christmas stocking.
Robintail is a boutique design label for little folk, from baby to child. All garments are designed and carefully constructed by hand in the studio in Far North Queensland, Australia by independent designer Megan Price. Robintail is best known for stunning fabric combinations, original design and well-made, high quality pieces. Our styles are modern and on trend, yet reflect the sense of nostalgia and love of couture that is very much part of the design process.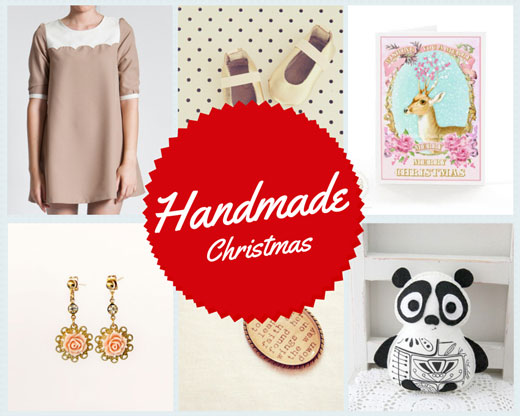 Hope you enjoyed Day 6 of our " 12 Handmade Elves of Christmas. 12 Days of handmade gift guides " lets shop Australian Handmade this Christmas. #12handmadechristmaselvesHMK