Our new Christmas Advent tradition
This December 1 we are kicking off a new tradition at our house – the Christmas Countdown Advent Bunting.
We had a few different ideas in mind when we decided to create this project; there are so many wonderful variations of the countdown calendar out there. However when we discovered the adorable little advent numbered cards from The Paper Birdcage we knew exactly what we needed to create.
Each day in December in the countdown to the 'big day' we will draw a card from our little fabric pockets and do a 'festive activity'.
Here's how you can make your own bunting countdown calendar:
Supplies you will need:
felt for bunting flags
heading tape (available from Spotlight or similar)
Christmas fabrics
fabric or felt to create bunting numbers
countdown cards from The Paper Birdcage
sewing supplies- thread, sewing machine, iron, pins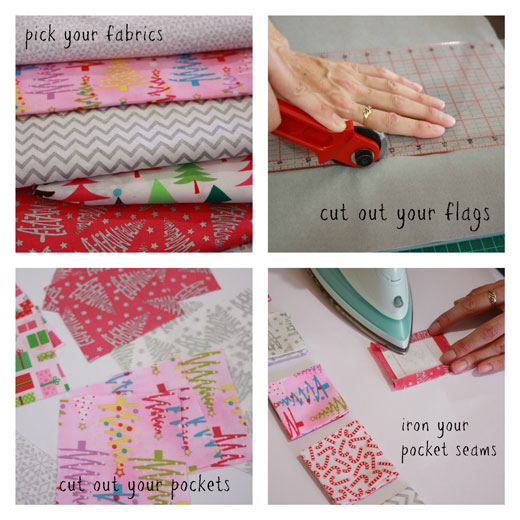 How to make your bunting:
Measure out your flags on the felt – we used these dimensions – 28cm long x 10cm wide rectangle. This includes a 1cm seam allowance on the sides of the flags. Obviously, you will need to cut out 25 flags for the countdown.
Measure and cut out the pockets- we used these dimensions – 8cm x 8cm square. This includes a 1cm seam allowance on each edge. The pocket will be 6 x 6cm when finished.
Fold the felt flag in half and iron in a crease – this will help to correctly position the fabric pocket for sewing.
Fold over and iron a 1cm seam on the Christmas pocket edges. To make it even easier to get an even shaped pocket square we used a 6cm square of cardboard as a template when we ironed over the seam edges.
Pin your pockets onto your flags. Make sure to leave an appropriate gap at the top of the flag to attach your bunting numbers and space to attach your heading tape.
Sew around the pocket to attach it to your flag; leaving the top pocket edge open.
There are many ways to create your fabric numbers. We traced around paper numbers that we created using the Brother ScanNCut machine. Firstly we ironed Heat & Bond onto the back of our felt, then traced out and cut out our numbers. Then easily ironed the numbers into place on our flags.
Turn your flags right sides facing in and sew up the two long edges- using a 1cm allowance. When finished, turn back out the right way, carefully pushing out the corners as you go. Iron flat if needed- and now you are ready to attach to your heading tape.
If you don't have heading tape, you can use bias binding or even a wide ribbon.
Carefully pin bunting flags along the heading tape at intervals that suit your space. We used a 2cm gap between each flag and a 10cm space at each end. Sew all along the edge of the heading tape, approx 1/2cm in from the edge to secure the flags to the heading tape. Turn the ends back over and sew down to make a loop for hanging.
Depending on how much space you have or where you are going to put your bunting you might like to divide the project into 2 bunting lengths like we have or simply just have one long length.
That's it- the sewing is all done. How did you go? Hope you are happy with your creation.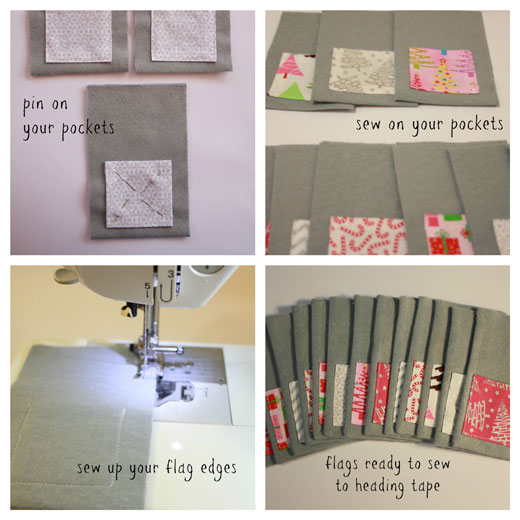 Advent Countdown Cards & activities:
Now that the sewing part is all finished, time to put on the thinking cap for ideas for some 'festive activities' to add to your countdown cards.  Each day we will be doing, seeing or making something festive on the count down to Christmas Day.
ideas can be aimed at the little ones or can include the whole family. Look ahead at your family calendar and add in events that you are already booked in for, like end of school or kindy parties, local carols or fireworks and other free events.
Here's a few of our ideas so far. What else would you include?
decorate the Christmas Tree
make your own Christmas cards
donate a present to a local charity – like the Kmart Wishing Tree
clean out your toy box and donate a few toys to a local charity organisation
start wrapping presents
bake some Christmas cookies
watch a Christmas movie
learn a new Christmas carol
write a letter to Santa
walk around your local neighbourhood to see the Christmas lights
Visit your nearest city/town  to see the Christmas Tree and lighting display
go and see the Myer Christmas window display
go to a Christmas market; handmade market- even better
get a photo with Santa
read a Christmas story book
write a Christmas card for your teacher
make your own decorations
make cookies for the reindeers
help mum with the Christmas shopping (we can dream, right?)
look through Christmas cookbooks for ideas
take your own crazy family Christmas photo to send out with your Christmas cards
make some chocolates using Christmas shaped moulds
have a family slumber party under the tree one night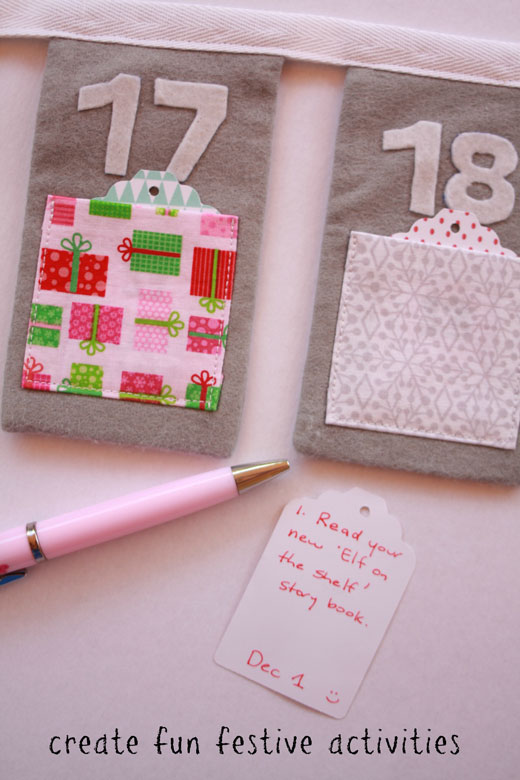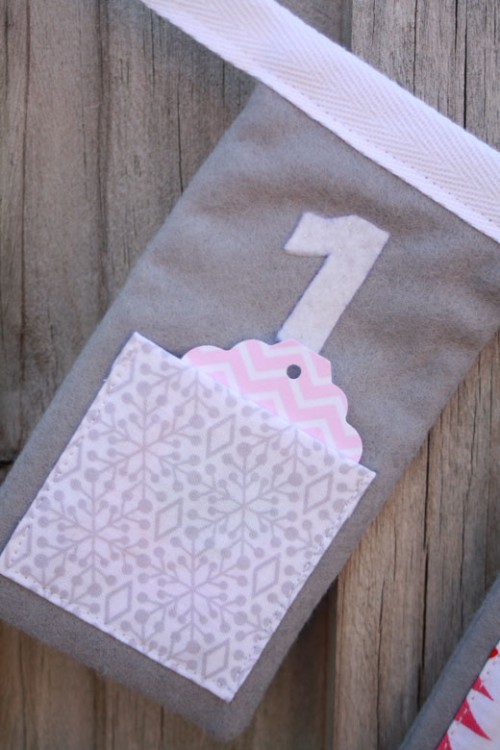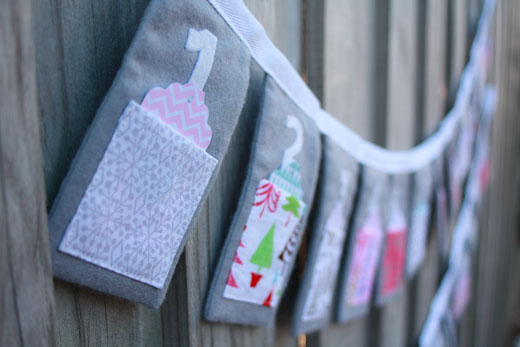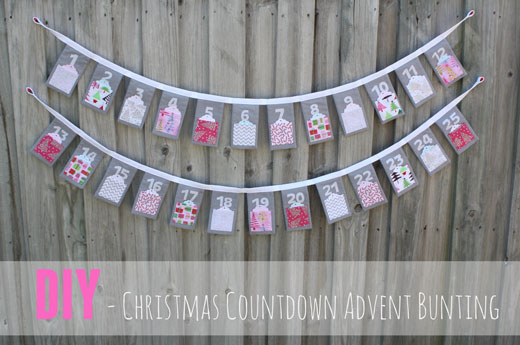 What festive Christmas activities would you add to your countdown list?