How many times have you seen something and thought I could make that, I'd love to try?
With the DIY market becoming huge business, you will find a DIY kit to buy for almost anything especially among childrens products.
Here are a few tips for making sure your DIY project doesn't turn into a DWTH (that's a disaster waiting to happen!).
What additional materials or items are needed to complete your project? Do you already have them on hand? Do you need to buy more? Are they readily available?
What skill level is required? Are there techniques needed that you are unsure how to do?
Is it really going to be any cheaper or are you just doing it for the satisfaction of completing it yourself?
Can you receive additional support from the supplier if you need help or you're stuck on a step?
Check that its in your language;  because it is so easy to access products from all over the world that you don't want to buy a DIY project to find that the instructions are written in Spanish when your first language is English.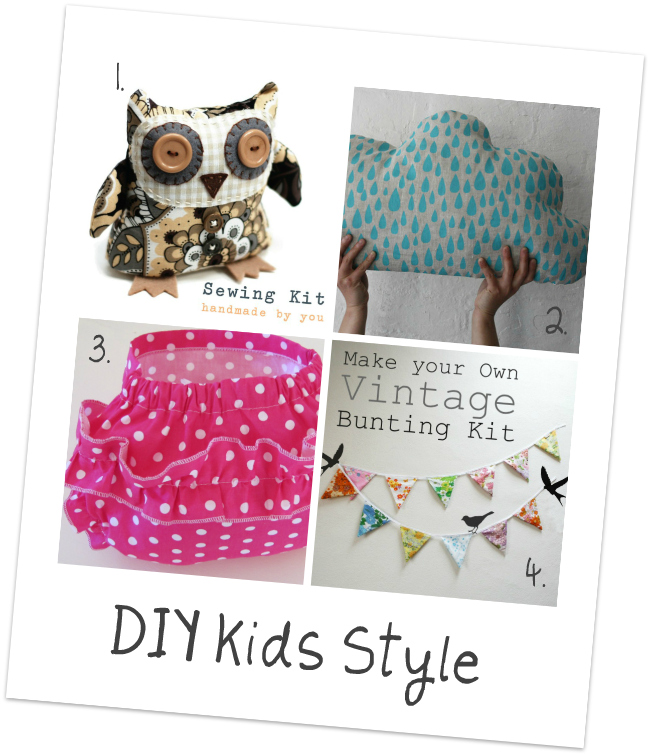 Owl softie kit  – Blossom & Cat
Cloud Cushion
–  Harvest Textiles


Ruffled Bloomers

 & 

Vintage Bunting kits

 – The Haby Goddess
DIY Craft Kits – DIY Kids Style
This guest post was written by Jodie Maloni of www.thehabygoddess.com.au