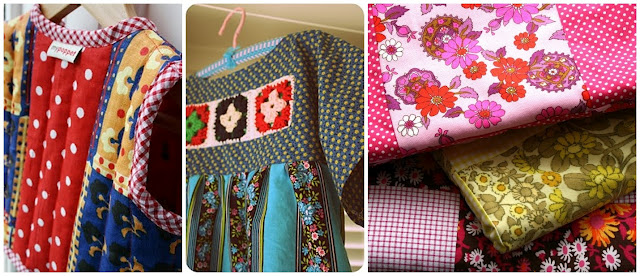 I know many of you enjoy sewing and making things for your kids, hey this blog is called Handmade Kids after all.
Have you ever had the experience of making a garment only to find it shrank after the first wash? It's annoying I know. Maybe it's time to consider pre-wshing your fabric.
Here are the 7 reasons why I pre-wash:
I usually buy/find vintage fabrics that have been in an op-shop, garage or some other not very clean place that smells like damp so it is necessary to wash just for hygiene sake.
Shrinkage. most cottons shrink about 4%, sometimes more depending on the quality. It would be a shame to spend a ton of time making a garment that doesn't fit after 1 wash. Shrinkage is also important if you are making bias binding from the fabric, nothing looks yuckier than a puckered binding edge.
 Excess dye. Depending on the fabric quality, you may get dye run during washing. Usually worse with dark colours and reds. A quick rinse cycle may get rid of excess dye that can run into other fabrics in your project. HINT: about a 1/4 cup of white vinegar in the fabric softener compartment will help prevent excess dye run.
 General store grime. Even new fabric has been stored in warehouses or dusty shops. You wouldn't put a dusty dress in your wardrobe.
Chemical residue. It is an unfortunate reality that chemicals are used to make fabrics easier to print on and wrinkle less. Handling and storing lots of unwashed fabric with these chemicals on, can't be a good thing.
Quality. Sometimes even the nicest looking fabric looks terrible after one wash. Print fade, pilling etc…at least you found out now before you spent hours hand quilting it!
 To create a particular effect. Sometimes I use washing to soften a fabric, bleach out colour or even felt/shrink it on purpose for a particular project I have in mind.
Read more about the pros and cons of pre-washing here via The Haby Goddess
—————————————-
This Guest Post is brought to you by Cintia over at My Poppet. She is a blogger, crafter and online store owner.  Want more My Poppet? Read the blog or visit the online store.