Welcome to Day 2 of our Christmas Gift Guide series. Today we have the beautiful Pink Tulip Designs showcasing her special handmade Christmas picks.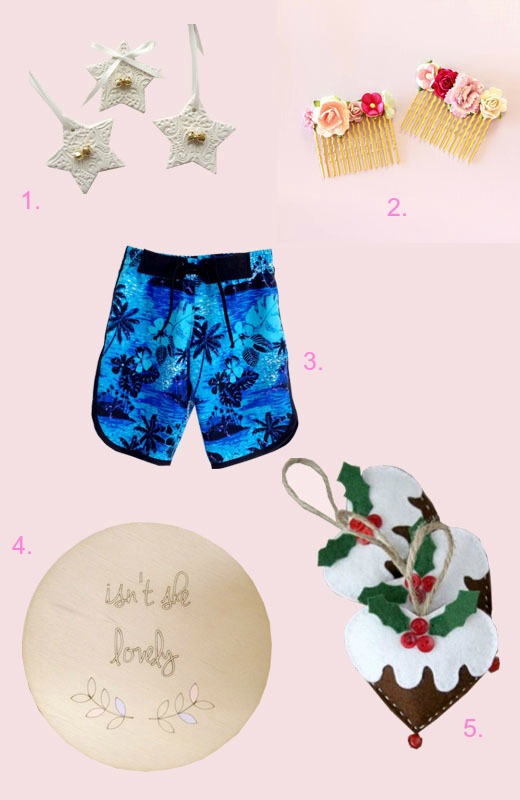 1- Jingle Bells Clay Tags from Mud by Nest – Ive bought these every year for that extra special touch to our Christmas tree and our table. I love using the tags on my handmade Christmas crackers and for that extra special touch when gift wrapping. We love a bit of mud!
2- Floral Hair Comb Set from Megsy-Jane – Gorgeous handmade jewels to delight, made in the beautiful tablelands of north Queensland, whats not to love about that!? The best part is she caters for all women and the little ladies too! My favourite item has to be the rose flower hair clips, theyre stunning!
3- Retro Racer Board Shorts from Sunhaze – Nothing says summer like a pair of funky retro boardshorts. I love the bright blue colour of these funky boardies, plus the quickdry factor helps us all out " keeps them dry after a swim and the car seat dry on the trip home!
 4- Isn't She Lovely Round Plaque from Zilvi – Im currently expecting our first little bubba in December and a girlfriend gave me this beautiful wall plaque for our nursery.  I was on the search for some quote art for the wall and couldnt find anything I liked! This plaque she chose was a perfect addition; its understated, modern and gorgeous!  There are lots of other Zilvi art pieces available including tassels, wall signs and acrylic decorations for your Christmas tree, all made in Brisbane.
5- Gingerbread Heart Christmas Decoration from Plushka's Craft – Katia makes gorgeous felt goodies that utterly delight! My favourite decoration on our Christmas tree has to be her Gingerbread lavender scented hearts; we hang them over our wall bunting too and it really makes our home feel like Christmas has arrived.
Pink Tulip Designs – Creating fresh and fun kids clothing and funky modern homewares, handmade in Australia! Our clothing designs are stylish, practical and easy wear/care for the modern little mister and miss, all handmade in our Queensland studio. Our clothing pieces and homewares are made from designer fabrics and threads, sourced from around Australia and the world. We also stock a range of Australian handmade designer tea towels and homewares. We hope you all have a very Merry Christmas and a Safe and Happy New Year! 

Weve been creating since 2011 and in that time we've fallen in love with all sorts of fabrics including Japanese home décor fabrics (I think half the thrill with fabric is finding those special designs that make you feel warm and fuzzy inside!). When we saw this print we couldnt resist! Ice cream pink, with gold, mint and cream accents made for the perfect cushion! Its my favourite homewares piece and makes for that individual and funky gift for the modern chick or the little miss!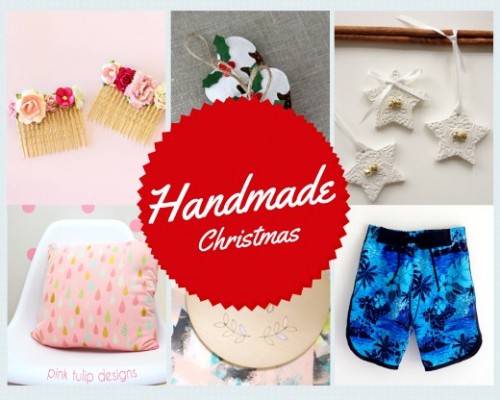 Hope you enjoyed Day 2 of our " 12 Handmade Elves of Christmas. 12 Days of handmade gift guides " lets shop Australian Handmade this Christmas.  #12handmadechristmaselvesHMK