Welcome to our new business directory for handmade kids products and business related services.
The directory will be a way for businesses to connect to the public,  for buyers to search the categories for items they are after, rather than spending endless hours scouring the internet. It will all be at their fingertips.
If you would like to be part of this directory please email  info@handmadekids.com.au for 2014 costing details.
Babes & Tots Designs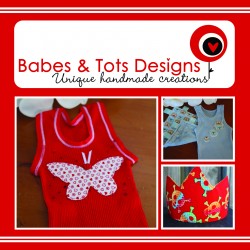 At  Babes & Tots Designs our passion is in creating handmade goodies for your little ones. Things they will love to wear, dress up in, cuddle and play with!
We create items for both boys & girls from newborn up to Size 5. Our products are Handmade with care. Custom orders are welcome.
Our range includes singlets, t-shirts, nappy covers, boys shorts, ruffle pants, dresses, birthday singlets, burp cloths, dummy straps, dribble bibs,  teething rings, hair accessories and many more exciting items.
Send Message to listing owner
Babes & Tots Designs