Welcome to our new business directory for handmade kids products and business related services.
The directory will be a way for businesses to connect to the public,  for buyers to search the categories for items they are after, rather than spending endless hours scouring the internet. It will all be at their fingertips.
If you would like to be part of this directory please email  info@handmadekids.com.au for 2014 costing details.
Squiggle and Stitch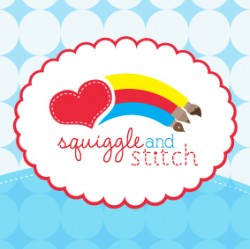 Squiggle and Stitch is all about Arty Crafty Stuff for Kids.
We specialise in kid's décor and accessories with our most popular item being our personalised cushions. Other products include decorator cushions, buntings, bags, hairclip holders, doorstops and baby tag toys.
We pride ourselves on using only the cutest and most stylish range of designer fabrics and everything is lovingly handmade at our home in Melbourne's northeast.
Custom orders are always welcome.
Squiggle and Stitch also hosts workshops and parties for your arty crafty kids.
Send Message to listing owner
Squiggle and Stitch