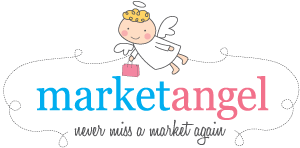 The markets are still a little quiet this week, must be due to the school holidays again.
For those around Westfield Hornsby NSW, head down to explore the Handmade Craft 'Pop Up' Market. Shoppers can enjoy everything from jewellery, fashion, kidswear, decor to beautiful handmade accessories and clothing for young ones and the not so young. Shop for quality unique products and see up and coming designers.
Have a wonderful weekend, and keep an eye on Market Angel to know all about your local markets.
——————-
Guest post written by Katrina ~ Market Angel