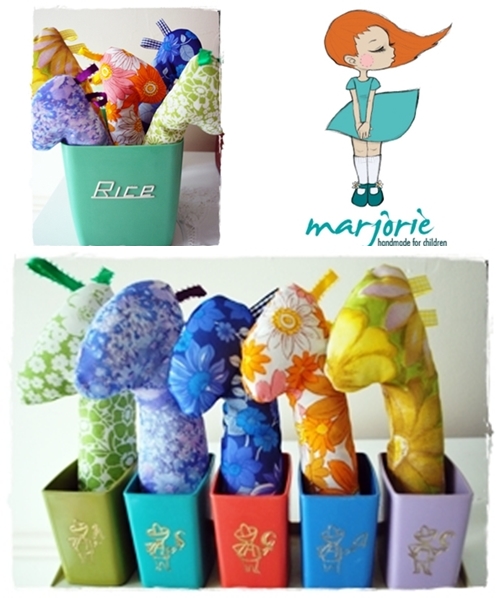 Pamela, designer and creator of vintage inspired gifts and clothing brand Marjorie. Marjorie is named after Pamela's dear grandmother, and is reminiscent of her beautiful 50′s style in decorating and clothing. Pamela makes pinafores, dresses, skirts, aprons and bags, as well as cute giraffes, using authentic vintage fabrics, ribbons, lace and buttons, as well as retro inspired fabrics.
Gorgeous giraffe softies for your beautiful baby!
Measuring 20 cm in length and 8 cm across the width of the head, these softies are the perfect size toy for your baby to cuddle. Two matching ribbon ears complement the vibrant colours of these authentic vintage fabrics. Choose from orange, yellow, purple, blue and green. Your giraffe will arrive gift wrapped in clear cellophane with matching ribbon and Marjorie giftcard.
Marjorie about being unique and individual, not following popular trends but designing and creating what is beautiful and special to Pamela and to the buyers who love and appreciate what she does.
For more info on Marjorie – handmade for children, head to their Facebook page or to purchase your very own gorgeous Giraffe or to view the range available head to the Marjorie online store.