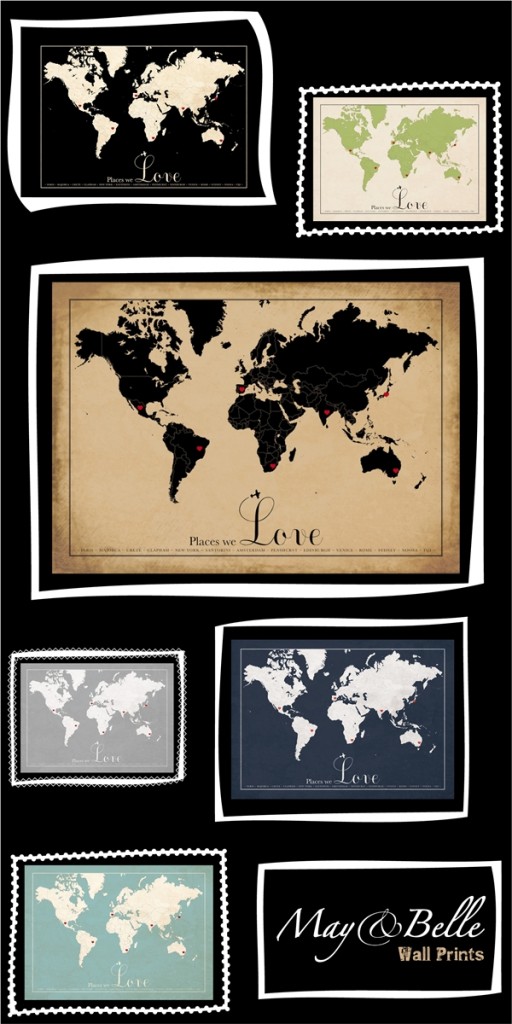 HOME IS WHERE OUR STORY BEGINS… decorate it with love and dreams.
Sherry is a qualified Graphic Designer, stay-at-home mum to daughter Zoey who is 2 ½ years and wife of a hubby who works away from home. She designs elegant, unique and stylish WALL ART PRINTS for your home. Her aim is to help you transform your abode from a house into a gorgeous home. May & Belle use high quality paper and printers for all of their work and strive to offer you a product that is good quality at a reasonable price.
New collection – Custom Vintage World Maps
"I don't know about you but I LOVE to travel, I love discovering new places and I love experiencing new cultures around the world! I designed these maps to offer a different twist on my very popular custom tram scroll prints. I thought it could be a great idea to highlight your travel in a pictorial, world map kind of way rather than just using normal text".
"The maps could include places you have lived, places your family live or come from, places you have been to, places you want to go to – your 'bucket list', or even just places that hold a special spot in your heart. They are a fantastic conversation starter, gorgeous centerpiece on the wall and great reminder of memories as well".
These posters have been a huge hit with customers so far and are available with a variety of options when purchasing.
They are printed on thick durable poster paper and are available in 50x70cm – $69, 70x100cm – $96 and A0 (84x119cm) – $118 + postage.
Please have a look at the May & Belle website for further details
http://www.mayandbelle.com.au/
Join May & Belle on facebook for all of the latest news and print releases
https://www.facebook.com/mayandbelle