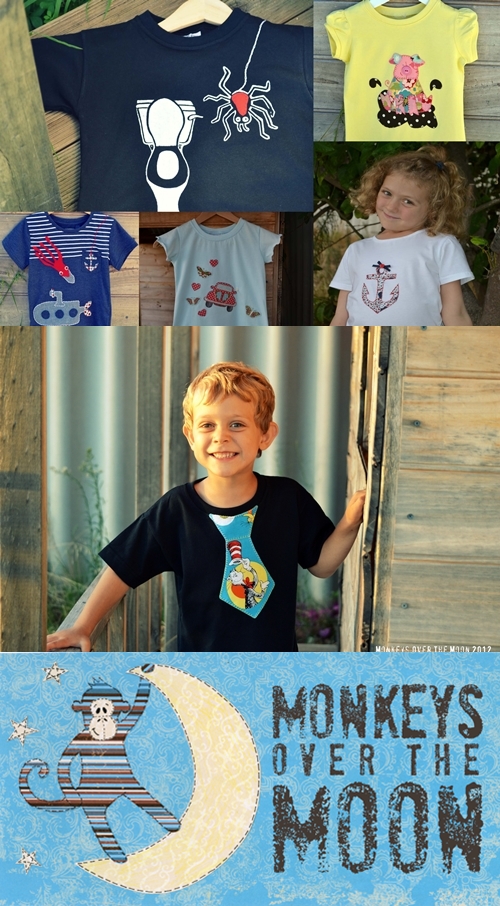 Monkeys Over The Moon is a local handmade enterprise run by Georgie, a mother of three young children.  Inspired by her wonderfully individual monkeys, a love of drawing and beautifully quirky fabrics, Georgie creates appliqué t-shirts not only for her own brood, family and friends, but now for all of you.
Georgie has always loved to doodle, to draw and create which stems from an arty upbringing back in the UK, where both parents were art teachers. When she first thought of creating funky t-shirts for her children, it was simply a way of make something special for birthdays and such like. It soon became apparent that these designs made her monkeys over the moon, and not long after starting in October 2012 with encouragement from friends and other handmade businesses, Monkeys Over The Moon was born.
In 2012 Monkeys Over The Moon will continue to support Australian made and local business by ensuring the majority of their designs are created on 100% Australian Made t-shirts or handmade items. Monkeys Over The Moon use two great suppliers of quality Australian cotton tops, Australian Grown and Mini Bambini, and can offer a large range of sizes from 0 – Adult Large. Monkeys Over The Moon will also be working in collaboration with other handmade designers, appliquéing designs onto tops and dresses that have been created here in Australia.
For more information, please visit www.monkeysoverthemoon.com.au where you will find unique and original creations that will make your Monkeys Over The Moon too.