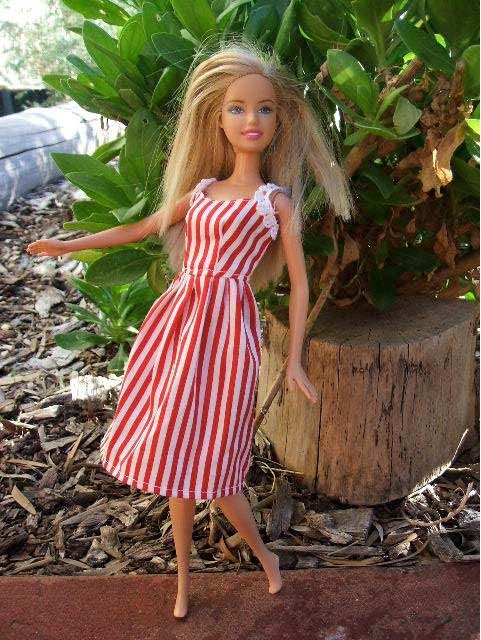 Let's make a Vintage Barbie Doll Dress. Follow the steps below.
Steps:
1. Cut out your pattern pieces. Zig-zag stitch around all  the edges.
2.   Skirt:
– Either sew lace along the bottom edge of the skirt or hem (0.5cm)
– Sew the seams on both the side edges (0.5cm)
– Put a gathering stitch along the top edge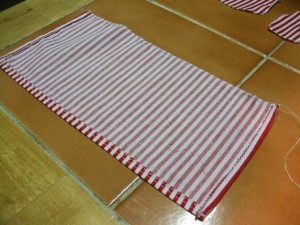 3. Front Bodice:
– Put a seam along the neck line (this seam is very small, 0.25cm). You may need to put a few nicks in the fabric so that it folds easily.
– Fold the darts on the fabric (indicated on the pattern), measure up 3.5cm and mark and 1cm across the bottom. Sew from the top of the dart down to the 1cm mark at the bottom. Repeat for the other dart.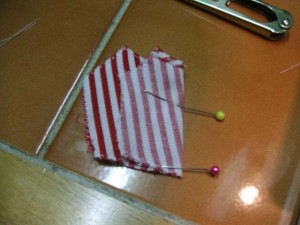 – Trim the darts and zig-zag stich
4. Side Bodice:
– Put a seam along the neck edge, again a very small seam, smaller than 0.5cm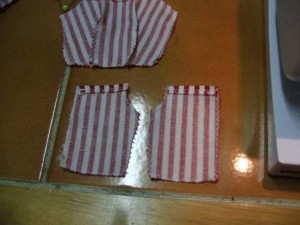 5. Attaching the lace:
– Pin along the arm edge of the front bodice; no need to have any hanging over the edge where the front and side bodices meet.

– Zig-zag stich the lace onto the fabric. I found that this stopped the lace from puckering when over the shoulder.
– Then pin the rest of the lace to arm edge of the side bodice and zig-zag stitch it on.
– Sew the front bodice and side bodice together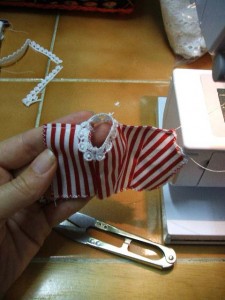 – Repeat for the other side.
– Sew 0.5cm seams for the two edges that meet at the centre back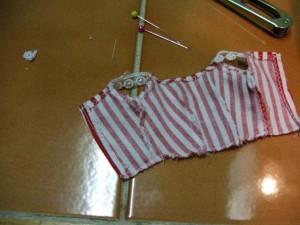 6. Attaching skirt to bodice:
– Once the skirt has been pleated or gathered attach it to the bodice, right sides together, sew.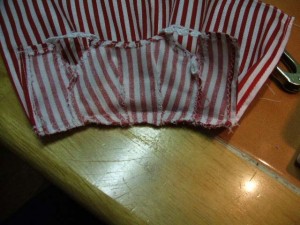 – Turn right sides out and iron the seam (where the bodice meets the skirt) towards the top of the dress. Then sew just above the seam.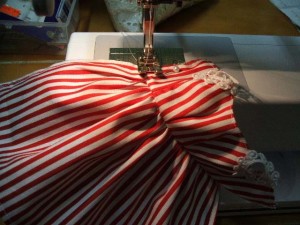 7. Attaching the velcro or snaps: – Attach a strip of velcro to the back of one side of the dress and the front of the other side. I made the velcro long enough to go past Barbie's bottom otherwise it will show. Alternatively put on snaps along the edge.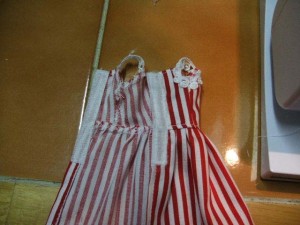 And now you are finished and ready to dress your Barbie!
—————————————————————————————–
Thank you Rebecca from Mellebug for this great Guest Post. You can find Mellebug here:
Make: a Vintage Barbie Doll Dress