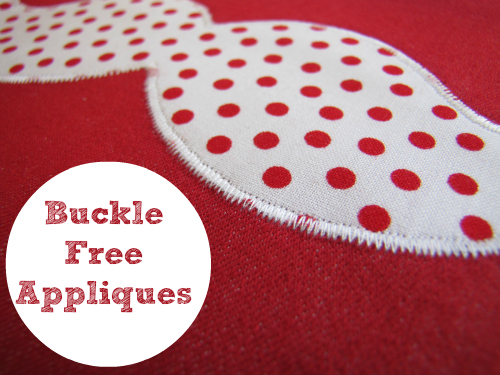 Appliqués are one of the easiest ways to embellish children's clothing.  Add to tees, hats, jeans or onesies to give them instant pop!
This tutorial will show you a few ways of achieving buckle free appliques.
A few helpful tools are : Stitch-N-Tear Pellon, a walking foot for your sewing machine & a light weight interfacing.
Cut your shape, press free of creases and then add your interfacing.
Pin a piece of Pellon, larger than your shape to the reverse side of the fabric. This acts as a stabilizer. It has a texture very similar to interfacing but it does not iron on. Using an interfacing is fine if you don't have Pellon.
Position your appliqué and pin.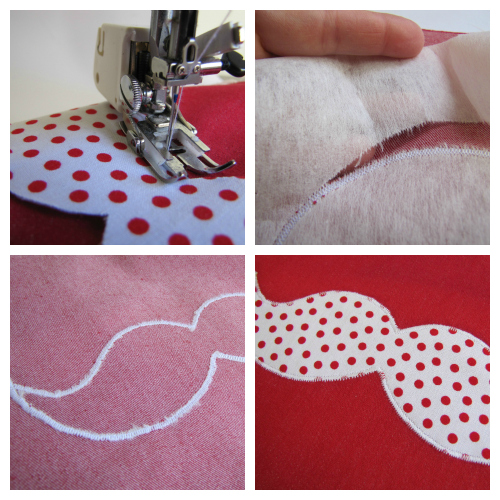 Look for your applique stitch on your instructions panel.  It may just be your zig zag option.  The stitch length will be lower in number.
Swap over to a walking foot if you have one and do a few practise strips of stitching to ensure you have the right size. If you don't have a walking foot, loosening the pressure dial may help eliminate your fabric from puckering as it reduces the foots pressure as it feeds.
The applique edge should sit in the middle of your foot attachment.
When you get you corners, place your needle down into the fabric, lift foot, pivot.
Once completed, turn your fabric over and tear or cut away your stabilizer.
You will just be left with the outline.
Press from the top.
This was a guest post by Jodie Maloni of The Haby Goddess.  If you are a beginner sewer and would like to learn more techniques just like this one, visit Jodie's Sew School Online for all details of her 6 week online sewing course beginning 8th October, 2012