Brought to you by Nuffnang and EasiYo.
Does anyone else just love the feeling of making something yourself? That satisfying feeling of trying something new and it turning out as you had hoped.  We love homemade at our house.
I've always wanted to try to make my own yoghurt and I'm very happy to say it was super easy.
Today I'm road-testing the EasiYo system. With it's classic red and shiny look.
-Did you know the EasiYo system was invented in New Zealand by a father / school teacher almost 20 years ago. I love knowing the story behind a product, don't you?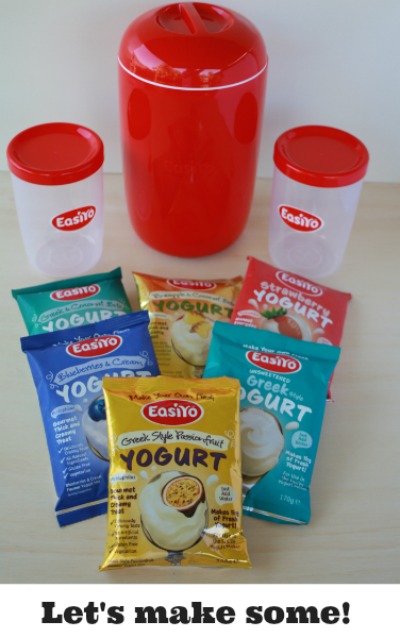 How to make your yoghurt-
first step pick which flavour you are going to make – this is the hard bit (too many yummy choices). We started with the Greek Style Passionfruit sachet
half-fill the yoghurt jar with room temperature water (ideally between 15-20 degrees celcius). Add the sachet contents and shake well. Then add the rest of the water and shake well again.
pour boiling water into the red yoghurt maker – enough to cover to the top of the spacer insert
next place the yoghurt jar with lid on tight inside the yoghurt maker- the boiling water will rise part-way up the jar as you do this
last step screw on the maker lid and leave it on your bench for 8-12 hours (or overnight) to set and hey-presto – home fresh tasty yoghurt awaits you!
then pop it in the fridge like normal – your made up yoghurt can be kept for up to 2 weeks refrigerated
Tips for making a super yummy yoghurt-
make sure the water you use in the yoghurt jar  is at a tepid room temperature – not too warm and not too cold (ideally between 15-20 degrees Celsius)
if you're looking for a thicker style yoghurt you can leave the mixture to set for up to 24 hours.
create your yoghurt mix before going to bed to have a fresh batch of yoghurt ready in the morning- so convenient! Pop it in the fridge while you get ready for work & school then enjoy a yummy chilled yoghurt
why not add some extra goodies into your yoghurt to make it go even further – like fresh fruit, nuts, muesli, oats, seeds or cinnamon
EasiYo is made of all natural ingredients with no artificial colours, flavours or stabilisers. They are gluten, wheat and preservative free and vegetarian friendly.  They are also suitable for people with a lactose intolerance (however not vegans as they contain dairy products).

EasiYo, as well as tasting yummy, contains billions of live cultures per spoonful (including acidophilus). It's a rich source of calcium, protein and other essential nutrients.
So what do you think? Looks great doesn't it. We made the Greek Style Passionfruit variety – this is after just 12 hours in the maker.
Make your own Yoghurt with EasiYo