Today we meet the lovely Alicia from Evie & Liv ~
Tell us about your business:
Evie & Liv is a children's clothing business, that focuses on upcycling and using organic fabrics to lessen our impact on planet Earth. I make mostly for girls (because I have two), but there are some items for boys too.
What inspired you to start your business?
Becoming a SAHM when my first daughter was born, I started to make some clothes for her as a creative outlet. After a while, she had more than enough clothes, but I wanted to keep sewing because I enjoyed creating so much. So I decided to start an Etsy shop 6 years ago.
Is there an interesting anecdote behind your business name?
I named it after my daughters Evelyn and Livinia, known around here as Evie & Liv, I just liked the sound of it for a business, and they enjoy seeing their names on my labels and tags.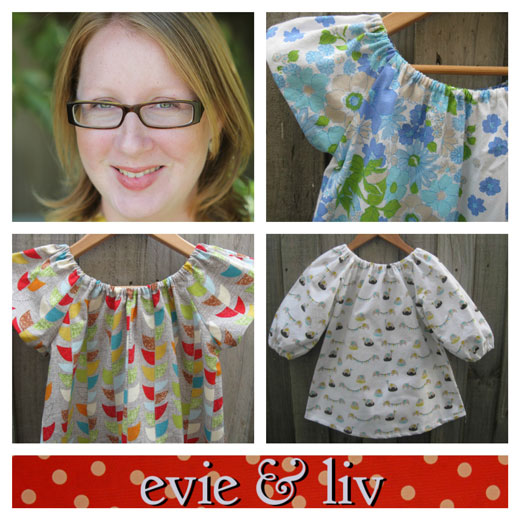 What is the most satisfying part of what you do?
Being able to repurpose fabrics into something useful, unique and beautiful. Sometimes I find clothes, doilies,tea towels, blankets, curtains etc that have stains or holes, or are shabby around the edges, and I can cut around the imperfections to create something new.
Have you tried something in business that didnt work as planned, or on the flip side " worked out better than expected?
Having local businesses ask to stock my items- it's the biggest compliment, but it can be scary to approach a business for fear that they might not like your product. Thankfully I had a great response, and people started to recognise my work when I met them at markets.
What would be your best tip for someone thinking about selling their handcrafted goods?
Try to focus on a small range to start with- this is something I struggle with as my head is always buzzing with new ideas, pulling me into all sorts of directions. Do one or a few things really well, do what you're good at.
What is your favourite item you make? 
I make blanket dresses from woollen blankets and embellish them with vintage doilies. It's fun matching doilies to the blanket colours. They are very warm for winter.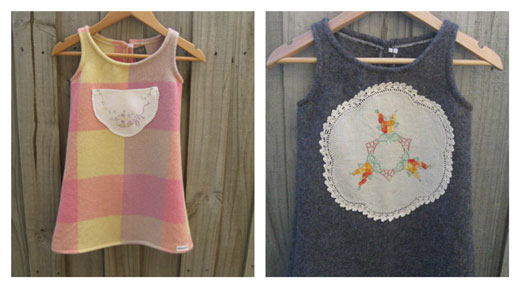 Any personal or business highlights in the last year:
Having two articles about what I do published in The Weekly Review and Geelong Coast Magazine. I was asked to do both interviews (one with a photo-shoot involving my daughters) within the space of a few weeks, which was a bit of a surprise.
3 things about you that people might not know:
I'm a qualified massage therapist and reflexologist
 We keep 6 chickens in our backyard
Do you have an Australian handmade business that you would like to see featured in our Meet the Maker series- why not drop us an email for our Questionnaire.