Let's meet the lovely Lindsey from Jacaranda Handmade.
Tell us about your business:
Jacaranda Handmade is a teeny tiny business that I run in my ˜spare time, in between working 4 days a week and looking after my 2 girls. I specialise in handmade dolls and baby items, and make clothing by custom order.
What inspired you to start your business?
I got serious about sewing again after my second daughter was born. I started collecting fabric, ribbons and patterns, and it lit a creative fire in me. Friends and family encouraged me to go into business, and I saw it as a way to fund my new hobby.
Is there an interesting anecdote behind your business name?
I had put off starting a business for quite a while because I couldn't come up with a name. In November 2010, I was talking to a work friend about possible names and we could see Jacarandas in bloom from our office window. So Jacaranda Handmade was born.
What is the most satisfying part of what you do?
Having happy customers who let me know how much they love their items.
Have you tried something in business that didnt work as planned, or on the flip side " worked out better than expected?
After having dolls available by custom order for a long time and not getting any orders, I decided to make up a few in April 2012 just to see if they would sell. The response was amazing and I ended up making and selling over 50 dolls last year.
What would be your best tip for someone thinking about selling their handcrafted goods?
Make what you love.
What is your favourite item you make?
Im currently in love with the hedgehog softies. I love coming up with different fabric combinations.
Any personal or business highlights in the last year:
The lead-up to Christmas 2012 was amazing. I made so many personalised stockings, Santa sacks, and gifts – I was working right up until Christmas week. It was exciting that so many people wanted a piece of JH as part of their holiday memories.
3 things about you that people might not know:
I was born near Boston
I absolutely adore ballet
I recently completely overhauled my diet, and am now obsessed with fresh fruits and vegetables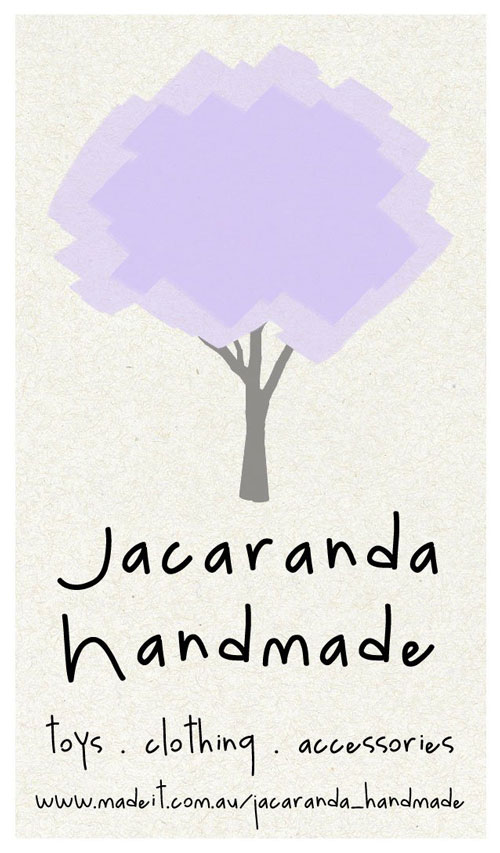 Meet the Maker – Jacaranda Handmade