Let's meet the lovely Nicole from Mahlimae ~
Tell us about your business:
The story of Mahlimae is not a lengthy one, we only sprouted from the shadows in January 2011 and have been evolving in some wonderful ways ever since.
Sewing was one of those skills I seemed to spontaneously and quite mysteriously acquire upon having children. I have however, always been a dreamer – one of those people with a wild (some would say odd) imagination full of magical places inhabited by some strange but loveable characters. I have countless art journals filled with whimsical creatures and the stories that illustrate their existence; often inspired by the Tasmanian wilderness in which I am lucky enough to live.
Mahlimae is the means through which I attempt to bring some of these quirky characters to life through fabric, narratives and watercolour illustrations. I like to think time has started to shape a unique mahlimae 'style' which, if I had to describe it, would be a little asymmetrical, a lot quirky and always brimming with my heart and soul.
What inspired you to start your business?
This is going to sound cliché but I am so passionate about handmade wares; there is such magic and inherent beauty to be found in handmade items that just makes me smile. I remember going to a gorgeous market here in Tasmania and strolling past the endless tables of gorgeousness thinking to myself œwow, I want to be a part of this.
I also happened to be pregnant with my youngest daughter at the time so I really wanted to create some special keepsakes for her which would inspire many imaginings as she grew older alongside them. I was lucky to receive some incredible encouragement from my husband and family to just œgo for it so it was the very next day I sat down to flick through my sketch books, and the rest, as they say, is history.
Is there an interesting anecdote behind your business name?
I was taken by the idea of my business name reflecting the one of the biggest loves of my life…my two girls! So I simply merged their middle names ˜mahli and ˜mae; and mahlimae was born.
What is the most satisfying part of what you do?
I would have to say, without a doubt, the beautiful stories, emails and photos I receive from my customers revealing how their newly adopted mahlimae creation has fitted into their family is the most rewarding part of what I do.
It truly makes my heart sing to see a photo of one of my creations tucked under the arm of a peacefully sleeping little one, or a piece of my artwork in a stunning frame on nursery wall, or a Dreamling mobile hanging above a cot in anticipation of a new arrival. It is such an honour to create something that can bring such joy to a family. It still gives me butterflies of excitement each and every time.
Have you tried something in business that didnt work as planned, or on the flip side " worked out better than expected?
My entire business venture to date has been completely unexpected to be honest.
I recall designing my very first mahlimae pattern, a 'Secret Keeper'…the name and concept came to me first around which I sketched a rough design. After three or four mock-ups I was very close to giving up on it altogether before promising myself one more try. On this final attempt I stitched it up, turned it out and knew then (with the utmost of surprise) it had worked; now that design is one of my most popular creations.
I think that process reflects well  my journey with mahlimae from day one. I started from very humble beginnings but with a little perseverance and luck, things have continued to turn out much better than I ever could have imagined, with lots of surprises along the way of course.
What would be your best tip for someone thinking about selling their hand crafted goods?
I am not a particularly business minded person at all, in fact I tend to shy away from terms like 'commercial', 'accretion' or 'enterprise'. I would however like to emphasise the importance of a more intangible element that can get overlooked when doing all that planning " being yourself.
If you are just starting out and would like to find your niche in the handmade market, I would suggest digging deep within yourself to find what it is YOU love to create, regardless of trends or popular products; once you have found that, there is a kind of magic which will shine out of what you do which others will be inadvertently drawn to.  Always stay true to yourself.
Oh, and always speak kindly and professionally in your communication with others, always credit other creators should you find inspiration in their designs and continually support others within the handmade community, you will discover some beautiful friends and mentors out there who become a wonderful source of support and encouragement to you throughout the journey.
What is your favourite item you make? 
Oh this is the hardest question yet! I would have to say my most favourite item I make is actually my artwork. There is something deeply relaxing and familiar for me in the process of drawing and creating with watercolour paints. I have never taken a class nor do I follow any 'technique' to speak of, so it is very instinctual and I find more freedom in the range of expression I can achieve with it than with fabric. I've just finished illustrating two sister faeries which were inspired by a story I tell my girls about the realms of the earth and stars, they are certainly my favourite works so far.
(and that nicely got me out of having to choose a favourite fabric creation too didn't it!).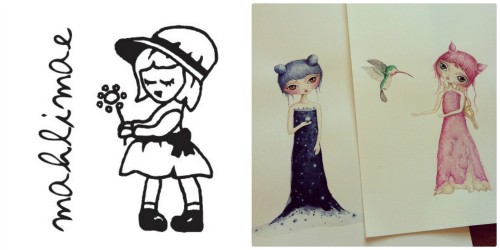 Any personal or business highlights in the last year:
This year is shaping up to be a big one for me personally, having just been accepted into post-graduate studies. My eldest also started Kinder this year which was a massive milestone for our family, I couldn't get over how little she looked with her 'too big for her' uniform and her massive school bag on her back on that very first day, it was a monumentally proud and terrifying moment for me.
Looking forward to what lies ahead.
 3 things about you  that people might not know:
I have a psychology degree and I am currently working part time as a family support worker with some very vulnerable kiddies. It is a phenomenally challenging role but the flip-side is very rewarding, I have never cried or laughed as hard as I have alongside some of these families.
My sister and I used to spend hours in the back garden when we were little making houses for faeries from leaves, pebbles, flowers and just about anything we could get our hands on; giggling and imagining the tiny folk that would inhabit them once we had gone inside. Fond memories of that innocent time in life where anything and everything is possible.
I am a vegetarian and incredibly passionate about my belief that every living creature deserves the right to live a life free from abuse and exploitation. I dream a crazy wild dream that one day all of mankind will choose to adopt a compassionate, sustainable and planet friendly diet and life can get just a little bit simpler.
Meet the Maker ~ Mahlimae