Today we have the pleasure of getting to know Pamela from Marjorie Handmade a little bit better, so Pamela….
Tell us about your business:
Marjorie handmade is my creative project with the aim to explore vintage fabric and design in an eco-friendly and sustainable way. I make quirky baby softies, toys, accessories, bags and clothing. I like to dance to the beat of my own drum, I tend to ignore trends and just do what I love.
What inspired you to start your business?
I am a teacher and librarian, with an artistic soul! I have had three beautiful children in four years and had to put my career on hold. I have always done photography and mosaics but these things were difficult to do with babies and toddlers, so I got out the sewing machine and started creating with the stash of fabric I have kept for a rainy day! I have felt very inspired and challenged, I have taught myself a whole range of new skills, and it has been very good for the soul to be creative in the midst of the chaotic life that is being at home with three children.
Is there an interesting anecdote behind your business name?
Marjorie is my dear Nanna's name. She died two years ago. I was always very close to my Nanna and I loved her sense of humour and fun. My vintage fabrics and style are very reflective of my Nanna Marjorie's era, they make me feel very nostalgic and bring back lots of lovely memories of the times we shared.
What is the most satisfying part of what you do?
I like the whole concept of handmade. I love making something for someone, I like knowing who it is going to and I love how the act of creating is such a positive experience. I love creating, wrapping and presenting a gift to someone, knowing that I was involved in every step of that process.
Have you tried something in business that didn't work as planned, or on the flip side – worked out better than expected?
The best thing about deciding to put my creations out into the world has been the relationships I have built with others who appreciate what I do. I didn't expect Marjorie to be anything other than a little creative project, but now I know that there are people out there who like what I do and support it and it makes me feel energised to explore my creativity further. There are a lot of very generous people in the handmade community who have taken to time to listen, support and encourage me and for that I am extremely grateful.

What would be your best tip for someone thinking about selling their handcrafted goods?
You should always give something a try, but be realistic about your expectations and listen to the advice of others who have been around for a while. Always try to enjoy it and stay positive, if you really love what you do it will be in your heart always whether you end up selling anything or not!
What is your favourite item you make?
I make some lovely quirky soft toys using mainly vintage materials. I believe very strongly in encouraging imaginative play, and I like toys that have no plastic, bells, whistles, buttons or batteries. I make babushkas, hammers and giraffes for little babies that have different textures, colours and ribbons to play with. I also make softie rockets as that are so much fun for all ages. I love the old fashioned idea that you can create simple toys using sustainable techniques such as reusing scraps of fabric and handstitching. It is friendly for the earth and it is a lovely gift to give a new beautiful little person!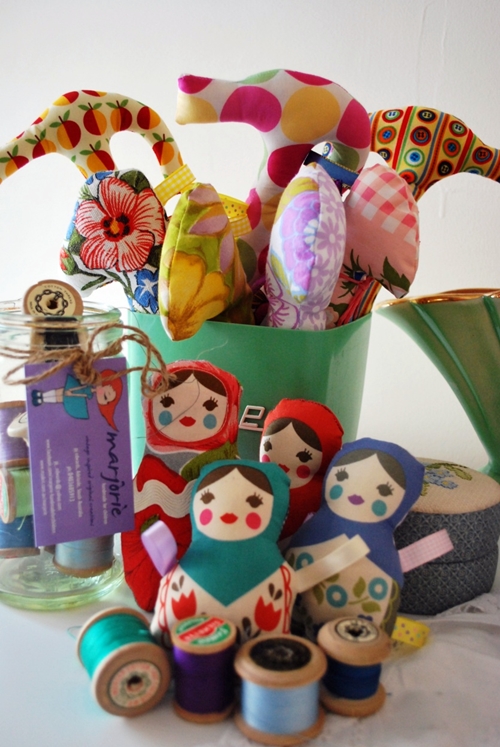 Any personal or business highlights in the last year:
I had my third baby in June last year and created Marjorie handmade soon afterwards. It has been the most amazing twelve months of my life. I have never been busier with three children at home full time, and I have never been more creative or felt more alive! It has been truly wonderful.
3 things about you (not business related) that people might not know:
I work in libraries, they are really wonderful places!
I dance around the lounge room with my children on rainy days to 'old music' on vinyl records. I am a bit of a dreamer
I do vague things like forget where I have parked the car in shopping centre car parks…all the time!
Thank you Pamela, it has been a pleasure meeting you, the maker!