Let's hear Lauren's story all about her business Molly and Mama.
Tell us about your business:
Molly and Mama is all about sharing the imagination and energy of childhood in beautiful clothes, accessories, toys and home décor. The Molly and Mama range is made with unique, original and often hand drawn designs and patterns. Im inspired by all things pretty, colourful, whimsical and happy. I create with lots of care and attention to detail. I always strive to produce high quality pieces that not only look great, but stand the test of time.
What inspired you to start your business?
I recall sewing dolls clothes and toys as a child, sketching house plans, making magazines and writing books. I wrote plays and entertained the family with costume changes, and scene sets. Being creative was always a part of me! As an adult, I have always had a yearning to follow my creative dreams, but I let ˜life get in the way. It wasnt until I had my children that I found the time and motivation to make those dreams come to life. I think that once I unleashed all the creative flow that had been held back for so long, there was just no stopping it. New opportunities presented themselves, and I found a way to turn my creativity and passion into a business that I love.
Is there an interesting anecdote behind your business name?
My little business is named for my grandmother Molly and my own mother (whom my kids call Mama). Theres a little bit of Molly and Mama in every piece I create " after all, theyre the two amazing women who inspired my love of all things creative and encouraged me to follow my dreams.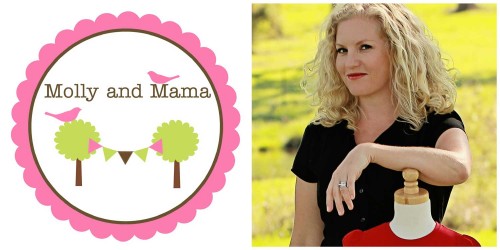 What is the most satisfying part of what you do?
It is wonderful to be able to be creative every day. I also feel very blessed knowing that I can work from home and be supported by my family and be there for my children. I love seeing a sketch come to life " from an idea, to a pattern and then transformed into an appliqué or a special piece. And most of all, I really get a kick out of seeing little kiddies loving their Molly and Mama gear! Its nice to know that you created something that they will enjoy, thats different from everything else in the shops.
Have you tried something in business that didnt work as planned, or on the flip side " worked out better than expected?
Being new to running a handmade business, there will always be little bumps in the road and things that you didn't plan for. Sometimes Ill create a pattern or a piece that I really love but it isnt as well received as I had hoped. Other times, Ill do a little side project and share it with the Molly and Mama followers and it quickly becomes a very popular piece or design. Its great to take a lesson from these situations. Every little challenge pushes me to look outside my comfort zone and try again. It often pays off, sometimes it doesn't  but at least Im following my creative dreams.
What would be your best tip for someone thinking about selling their handcrafted goods?
Believe in your product and what you are creating. Dont make things to please others. Have a very clear understanding of what it is that you are offering your customers, and what sets you apart from those around you. Be true to yourself and it will shine through in your work.
What is your favourite item you make? 
Ive always been a creative person and so I love trying new things. I am constantly sewing and creating different projects and pieces. But it seems that my appliqué t-shirts have always been a customer favourite. I particularly love my ˜Little Miss Dolly tees.
Any personal or business highlights in the last year:
This last year has seen Molly and Mama grow immensely. It was a very exciting moment when I launched the online store " www.MollyandMama.com.au. And the business has been featured in some fantastic blogs and magazines. ˜Tickle the Imagination magazine featured my Easter collection in their ˜Celebrations issue and that was certainly a business highlight for 2013!
3 things about you (not business related) that people might not know:
I have a psychology degree, I am a qualified primary school teacher and Autumn is my favourite season!