Today we have the pleasure of getting to know Zoe from Rockrose Handmade a little bit better, so Zoe….
Tell us about your business:
Rockrose Handmade draws together a curated, beautiful & ethical selection of handmade toys and baby essentials , women & men's accessories, homewares &  gifts, made from organic, sustainable, fair-trade or vintage materials, and made by a diverse array of Makers. We invest part of our profits into making the world a healthier & fairer place: Each new customer has a tree planted for them, we donate to the ICDI to help drill wells & plant crops in 3rd world countries & we sponsor a little boy in Kenya through Plan.
What inspired you to start your business?
We have the power to change the world, simply by changing where we spend our dollar. Each of us can contribute to a fairer & healthier world for future generations & those living now, simply by choosing to buy products made with organic, sustainable, fair-trade or vintage/upcycled materials.
Is there an interesting anecdote behind your business name?
I've always loved rock roses. I think they are the prettiest and simplest of flowers. The white rose of York (the crest) is a Rockrose, and I have some Yorkshire blood, so perhaps that is the reason I love it?

What is the most satisfying part of what you do?
I love three things: Hunting out & supporting Makers/Crafts People who are doing their little bit to help change the world; helping to change the world directly through our contributions to the various social & environmental initiatives that we support; and giving my customers a positive, lovely & personal shopping experience.
Have you tried something in business that didn't work as planned, or on the flip side – worked out better than expected?
I've tried a range of advertising methods and I've found that online advertising (that links to your online store-front), is a better way to spend your advertising dollar, than print advertising. Print is so lovely, but you can't beat a simple click that takes customers going directly to your store for increasing traffic.
What would be your best tip for someone thinking about selling their handcrafted goods?
Build into your price a margin for wholesale & consignment and then hunt out a like-minded business to sell/consign to. This process helps to promote your products & to share them with a wider audience. It can also help to provide a bit of a staple income, which can unfortunately  be a difficult thing to find in the handmade world. And be Bold. Geothe said: "Whatever you can do or dream you can, begin it…boldness has genius, power & magic in it."  Goethe was a very wise man.
What is your favourite item you make?
At the moment, I'm enjoying my partnership with The Maker's Journal. I have a licence  Agreement  with Pamela to produce and sell her lovely designs! When I get time to sew, I love, love, love making her sweet, corsage-style Bunny Bags. I've tried making various toys (on many, frustrating occasions)—but really, I am horribly useless at it, which is a pity, because I have a very soft spot for toys.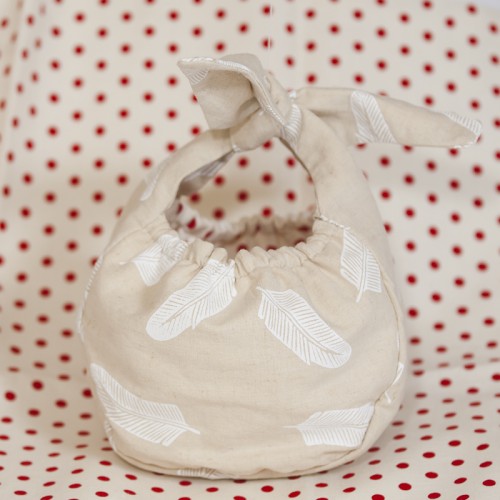 Any personal or business highlights in the last year:
Launching Rockrose Handmade was pretty exciting! I've been thinking about establishing an eco/ethical handmade store for a few years, but the timing was never right. Finding my first stockists was a huge thrill—but one I get each and every time I find a new one!
3 things about you (not business related) that people might not know:
I am in the middle of writing a series of novels.
I dream of moving to a warmer climate (almost daily).
 I am the mother of two beautiful children (Pepper , nearly 3; Beau , 14 months) & the happy (when I'm not nagging about the bins being taken out) partner of my Husband, Luke.
Thank you Zoe, it has been a pleasure meeting you, the maker!