Tell us about your business:
I find this the hardest question to answer when inevitably, everyone asks me, 'What is your business?'. I like to let my work speak for itself (I'm a visual person, what can I say?!) but if I have to sum it up in words, I guess threefold is all about folded paper and textile creations. I have gifts for any occasion from a baby shower to the birth of a baby, a Christening, or a child's birthday celebration. I can also provide styling and decoration packages for parties and events and home décor for children's rooms.
What inspired you to start your business?
I am a qualified interior designer and I've always had a love of design, paper and textiles. After six years living and travelling abroad learning about design, I felt that starting threefold was the next natural step for me, career wise.
Is there an interesting anecdote behind your business name?
Actually, the number three has always been quite significant for me and seems to repeat throughout my life…I have lived in three countries, I lived in London for three years and Japan for another three. I'm one of three girls and my life is about having a balance of three things; family, love and career. So it seemed completely logical that my business name be threefold too!
What is the most satisfying part of what you do?
For me, making special one-of-a-kind orders for customers is the most gratifying part of my work. I was recently commissioned by a customer to make a mobile for her friend's baby boy, who has been diagnosed with nystagmus, a condition effecting his eyesight. It was challenging for me to come up with a design that he could enjoy, even with his vision impairment and it was a huge thrill for me to hear that he loves looking at it now when he lays in his cot!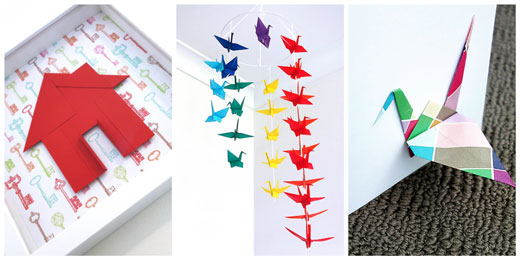 Have you tried something in business that didnt work as planned, or on the flip side " worked out better than expected?
Hmm, everything…everyday?! I have stopped trying to predict how people will react to threefold or what will work and what won't. I try to take as much advice from my friends in business and otherwise try everything and just roll with the punches and see what happens.
What would be your best tip for someone thinking about selling their handcrafted goods?
Be patient! In my brief six months in business I have learnt to be patient with everything from designing my website, through to answering customer queries. Try not to get frustrated with yourself and be confident that with time, will come experience and success…just be patient with yourself and the process.
What is your favourite item you make?
I think my framed origami baby booties would have to be my favourite threefold product. They are made from paper sourced from Japan and are unique and personalised for each baby.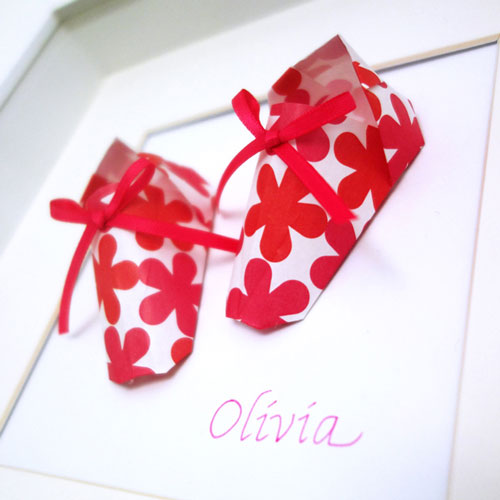 Any personal or business highlights in the last year:
I managed to complete Tough Mudder and live to tell the tale?! Otherwise, in terms of my business, I feel like I am doing the right thing when customers tell me they think I have unique and beautiful products. That to me is the most fulfilling feedback anyone can give me as a creative person.
3 things about you that people might not know:
I have a fairly extensive Converse collection and I spend most days kicking around in one of my many pairs!
I also have a rather unhealthy addiction to Instagram and I like to climb things…like Mt.Fuji, The Eiffel Tower and Sydney Harbour Bridge.
Meet the Maker – Threefold