Today we have the pleasure of getting to know Jemima from Tied With A Ribbon a little bit better, so Jemima….
Tell us about your business:
At Tied with a Ribbon I make and create fabric and felt gifts and accessories handmade to treasure. I specialise in Hairclip Hangers, Aprons, Needlebooks and Felt Kits to inspire you to sew yourself or to teach children.
I also run Sewing Lessons together with Claire Turpin, that with beginners in mind, cater for all level of sewers – whether novice or experienced. Each project is designed to build your skills as you go each week and progress your knowledge and sewing along the way. We have been teaching quilting, cushions, appliqué, oilcloth, accessories, bags and so many more.
What inspired you to start your business?
Tied with a Ribbon started from making the birthday gifts that my girls would take along to birthday parties. I kept being asked to make more of the items for brothers and sisters of the kids and I started to wonder if I could do this as a business and sell my items to others at Markets. With my teaching background I wanted also for people to see that they could learn to sew without it being a daunting experience. You don't have to have a sewing machine to be able to sew, just by learning some simple hand sewing skills you can make your own creations. Especially children, who really seem to enjoy learning these sewing skills.
Is there an interesting anecdote behind your business name?
I wanted a name that reflected all the things I love and treasure about sewing and crafting. I thought about this long and hard and since I was a young girl have had a treasured ribbon collection. Whether they were for in my hair or to tie around presents, Ribbon has always caught my eye, I love the beautiful textures and designs. Most things I made always seem to incorporate ribbon into the designs somewhere. I loved that "Tied with a Ribbon" could also reflect the attention to detail I strive for – the finishing touch to something handmade to treasure.
What is the most satisfying part of what you do?
Building up the success of the Sewing School that I started with a dear friend – I thrive on sharing and inspiring adults and children to develop a love of sewing and all things textile. I love passing on what I have learned from my Mother and Grandmother and then also down to my own children
Have you tried something in business that didn't work as planned, or on the flip side – worked out better than expected?
It is always hard to please everybody – sometimes listening to too many people's ideas and suggestions and trying to incorporate them and create them all is exhausting. I have learned that you have to go with your own gut feeling and devote the time to those projects that steer your business in the direction you want it to go. It is too easy to be steered off track, away from your goals.
What would be your best tip for someone thinking about selling their handcrafted goods?
Do it because you love it and have a passion for it that you want to share with others. You should always stay true and trust how you feel about about a project! Don't be over ruled by things like colour rules or experts. Be guided by what you like.
What is your favourite item you make?
I love making and designing the Felt Kits. I always have ideas floating around in my head and I am working on expanding this range to other handmade items. I love that someone else can take my pattern and instructions and can sew or create for themselves or together with children. So many of my favourite childhood memories involve being taught how to craft, sew and crochet by my Mum and Nanna. I hope that children and adults create these decorations, ornaments and badges encouraging dreams, one stitch at a time.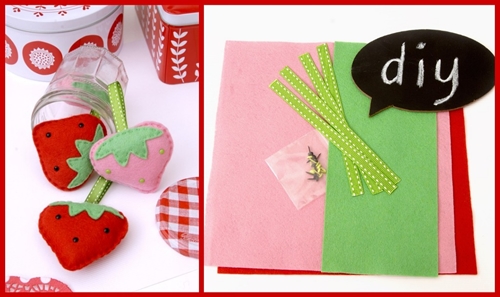 Any personal or business highlights in the last year:
Having several of my projects published this year in Handmade Magazine has been a huge highlight for me. To be able to share my love of craft with such a wide audience is very humbling. I have always dreamed about having some of my projects published and this has been a huge highlight.
I also had my Snowmen Tutorial published in Tickle the Imagination and was lucky enough to have this make the front cover.
3 things about you (not business related) that people might not know:
I love cooking – especially baking. I love making cakes and biscuits and have a love for layer cakes at the moment.
I have 5 Godchildren whom are all a very big part of our family
I am off to Minneapolis and New York in July for a holiday to visit a close friend – I am going on my own, so this will be a big solo trip and the first time away from my family for such a period of time
Thank you Jemima, it has been a pleasure meeting you, the maker!