Sign up to our Handmade Kids newsletter - full of handmade goodness
Kawaii Pastel Pop – 10 must have sewing patterns
It's launch day for the 13th Issue of One Thimble magazine. Lucky number 13! Yay and yay!
This latest issue is full of very cool pastel pop and kawaii patterns, designs and ideas. It's so colourful and fun!
I just love the front cover – what do you think, wouldn't you just love a vintage sewing machine like this!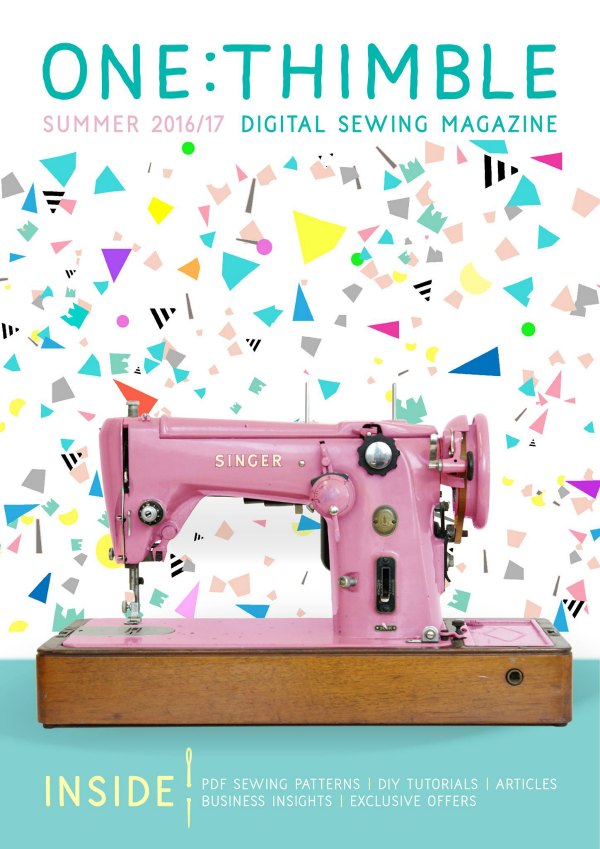 Inside the magazine you will find:
10 PDF patterns/tutorials for both boys & girls:
– One Romper (size 1-14)
– Orbis Skinny Harem Pants (size 1-14)
– Kawaii Felt Purses (8 options)
– Kawaii Felt Charms (8 options)
– Kawaii Applique (3 designs)
– Sakuro Clutch
– Peg Shorts (size 3-10)
– Ultimate Suit (size 2-14)
– Party Vest (size 3-14)
– Raglan Party Dress (size nb-12)
You'll also find in the e-zine the following articles & tutorials:
– Sewing with knit & leather
– About shopping for fabric in Japan
– How to do a FBA or SBA to a dartless pattern
– How to make a rubix cube mug rug
– How to make an everything pouch
– How to make a waterproof library bag
– Tips for putting in & removing snaps
– How to make a "long pin" using Pinterest
– Facebook Advert Retargeting
– Gift Guides and much more
We are really excited to be part of this issue too- we collated a Gift Guide full of fun kawaii finds, from 8 amazing Australian handmade businesses. We just love these cool products! Pop over to our Instagram feed to discover & follow these clever creatives – here.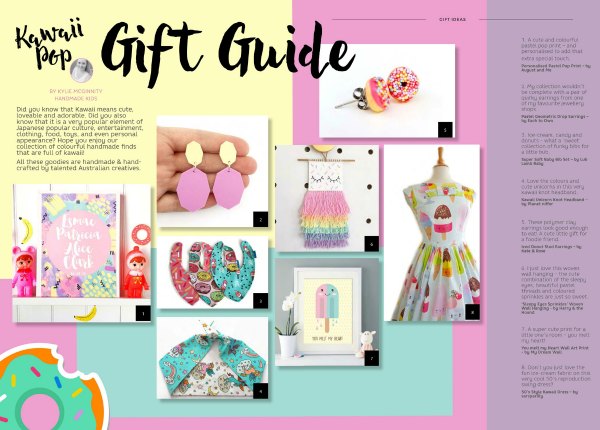 You can still purchase any of the first 12 issues from One Thimble too – there are LOADS of other amazing pdf patterns available in the previous issues. It's so hard to pick my favourite issue – but I am a bit of a sucker for issue 10 + 11. You can shop here for all the previous issues.
Pastel Pop 10 must have sewing patterns