Anatolia Magnets have something for everyone – ABCs & 123s for the kids to hearts and moustaches for the more mature fridge! This small operation is the newest baby of Michelle Zell – mother to two little people. Always a lover of design and working with her hands, she has dabbled in making many things but now hand-cuts shapely magnets of gorgeous fabrics and prints for the world!  Check them out at http://www.madeit.com.au/anatoliamagnets.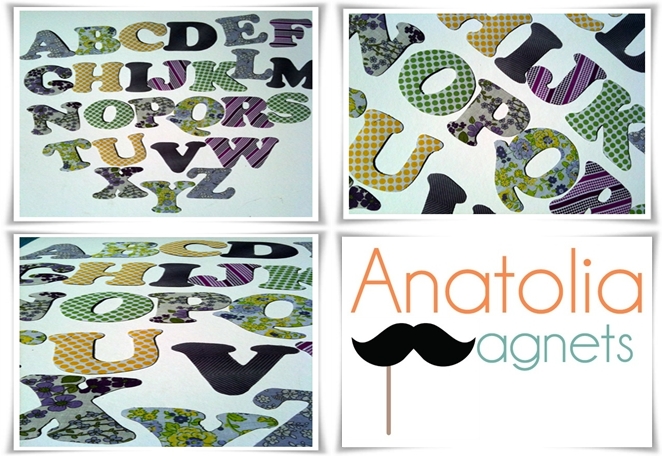 The Fabulous Michelle at Anatolia Magnets has kindly donated a Magnetic Alphabet Set – ABC-Z in a floral theme of lilac, green and yellow. You can have the look of spring on your fridge, washing machine, magnetic boards, magnetic walls… use your imagination! Use them to familiarise kids to the alphabet, write their name, hold photos or just to brighten up your magnetic space! Each set is hand cut and are made with a variety of fabrics. There are no bulk materials here. Anatolia Magnets also use some recycled material so no-one will have the same set as you! Letters are approximately 7cm tall and vary in width.
Remember to come back each day for details on all 8 prize packs up for grabs, take note and be ready to enter on Thurday 8th September.