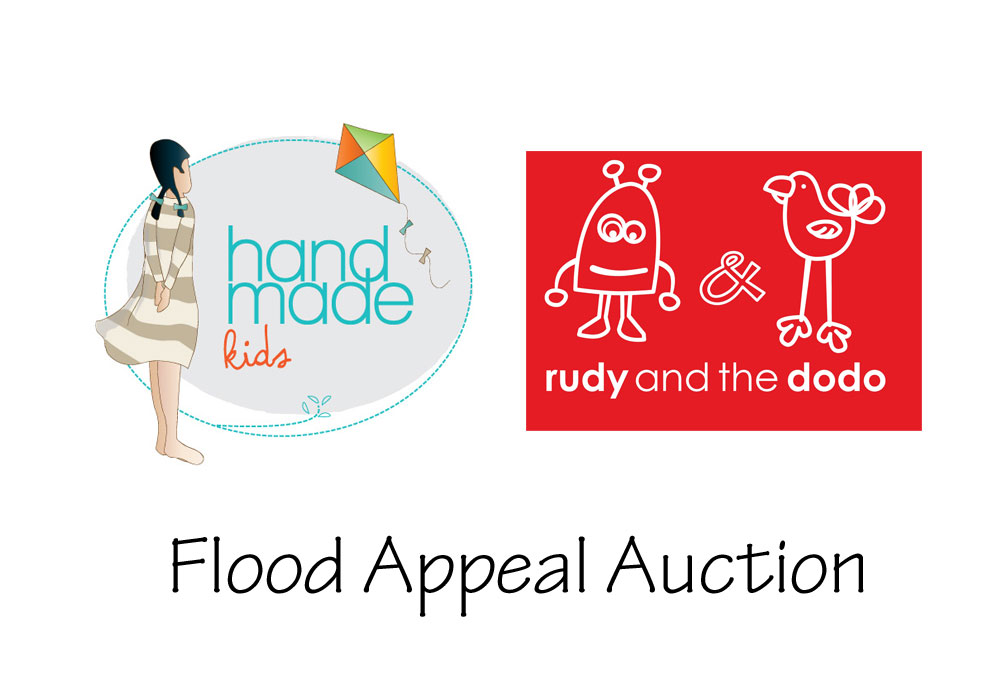 The devastating floods in QLD have affected many communities and Handmade Kids in conjunction with Rudy & The Dodo are holding an online auction. All funds will be donated to the QLD Flood Appeal.
The Auction will commence at 8am (WA Time) / 11am (EST) on 14th January 2011. Any bids placed prior to the start time will be deleted.
The Auction will end at 7pm (WA Time) / 10 pm  (EST) on 17th January 2011. All bids placed after close time will be deleted.
In order to bid you must comment on the photo you wish to purchase with the amount you are prepared to pay. By bidding you have committed to paying this amount should you be the highest bidder.
Donating stores will be responsible for posting the item to you. You will not be charged any additional fees once the auction has ended.
Winning bidders will be contacted via Facebook messages. Please make sure you can allow messages via Facebook. Once payment is made please email us with your name, postal details and payment method you have made so that we can send co-ordinating information to the donating store to enable your items to be sent.
Payment is to be made within 3 days of the auction closing and can be done via paypal to auction@handmadekids.com.au or by direct Deposit JL Bell T/A Handmade Kids, BSB: 126 573 AC: 21382012. Please make sure you leave your surname and item number you have won as the reference.
Items will be posted once payment has cleared. Items will be posted from the donating store, not from Handmade Kids. Handmade Kids will not accept liability for items and parcels not received. If you encounter any problems, you will need to deal directly with the donating store.
100% of all funds raised from the auction will be donated to the QLD Flood Appeal. Handmade Kids will be responsible for any administration, paypal or bank fees that may be incurred.
Open to Australian Residents only.
The auction will be held HERE