Who can honestly say that they haven't had a play with loom bands yet? Probably not many of us right?? These colourful stretchy bands are still such a big hit with kids of all ages.
Not only can you make amazing creations with your Rainbow Loom, like rings, bracelets, necklaces, to bouncy balls and little animals shapes;  this crafty activity incorporates great learning skills for kids such as maths building, shape recognition, reading skills to fine motor skills.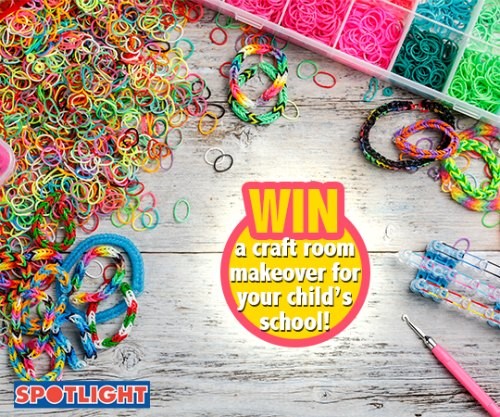 Spotlight is giving you the chance to show off your loom creating talents for the chance to win a $10,000 craft/art room makeover for your school! Imagine all the wonderful crafty supplies your school could buy with that prize money!
Here's how you can join in –
Step 1: Pop over to Spotlight's Facebook page and claim your FREE Rainbow Loom Kit. Here's a link – HERE
Step 2: Check your emails for your Claim Offer. Pop into your nearest Spotlight store with your email and pick up your FREE Rainbow Loom
Step 3: Time to get creative!! What will you make with your new Rainbow Loom kit?
Step 4: Take a photo of your creation – but don't forget to include your official receipt somewhere in the image
Step 5: Share you photo with Spotlight. There are 2 ways you can do this.
Add your photo & comment to this Spotlight Facebook post thread – here
OR post your photo to Instagram and include the hashtag #winacraftroom and tag @spotlightstores
Step 6: That's it! Now sit back and have fun with your new Rainbow Loom and pop back now & again to see all the other creative entries from other crafty kids (and parents).
 School art/craft makeover Competition closes 30th June 2015 – open to Australian and New Zealand residents – full T's & C's here on the Spotlight website.
Rainbow Loom a Creation and WIN with Spotlight

What are you going to create with your Rainbow Loom?? We would love to know – why not share your ideas in the comments below.

**Spotlight has just announced that due to the great interest in this competition they will be also giving away another $10,000 worth of vouchers to the best creations! So keep looming away  – you have till the end of July to be in the running for these Spotlight vouchers**