Handmade Felt Fruit Toys
I love fruit and I love felt, and what better combination of the two than my latest review of some funky felt fruit from The Fairy Ring.
The felt fruit salad from The Fairy Ring are life sized and included a variety of fruits.  The toys are beautifully soft and are locally handmade using the highest quality materials of 100% pure wool felt.  They are also non toxic and eco friendly.
 I just love these ones, not only is the wool felt so gorgeous, I think it smells good, just love that pure wool felt smell.   As well as being life sized they are very 'life like'.  The banana features little brown marks just like a real banana would and it is those little touches that make these so wonderful.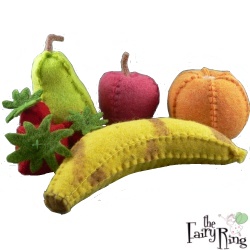 I think that is what I love about them the most is the fact there is so much attention to detail, carefully stitched and all those little finishing touches in the colour, sizes and shapes, as well as the fact they are made from natural materials.
My toddler also loved them when they arrived.  We played kitchens and he was able to recognise all the fruit easily, he even popped them in his mouth for a taste (testament to how good they look), wasn't quite sure of their furry surface which provided a giggle.
Toys from The Fairy Ring inspire imaginative play and creativity and considering the amount of detail and the natural fibres, I think they are very affordable as well and the variety is simply astounding.
If you are ever looking for unique, affordable and gorgeous toys for your children, then The Fairy Ring definitely should be a place you are stopping by, you will not be disappointed on the quality nor service.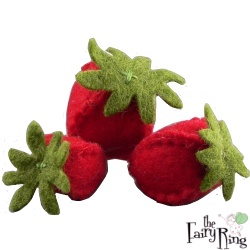 Review: The Fairy Ring