Let's meet the wonderful team from The Handmade Expo.
Tell us about your market:
We started The Handmade Expo Market in 2008. We – Mum (Miriam) and twin daughter (Liesa and Micky) TEAM found a niche South East Queensland market for a HANDMADE ONLY market.
Six weeks after having the idea of opening the Ipswich showgrounds pavilion to a make it, bake it, grow it market we welcomed 96 stallholders and over 2,500 lovers of handmade through the door.
We are super excited to celebrate our 5th birthday this year on the 17th August.
In 2009, our market moved from the Showgrounds to the Ipswich Turf Club to expand. The Showgrounds just couldn't accommodate us anymore…We had a waiting list of 50… The Turf Club offers a unique and family friendly handmade shopping experience. You can also jump onto the Swanbank Steam Train ride for a discounted Fare for market goers.
In 2012, the market expanded to include Morayfield, Redlands, Forest Hill (twice a year) and Rockhampton each and every month. All are indoor venues and all are full to the brim of handmade, handbaked and handgrown. This is not the last market you will see open around Queensland, with another one on the cards within the month. *(Bundaberg was just announced as a new location).
What inspired you to start your market:
The three of us were sitting at a Trash and Treasure market in the Ipswich area – we came up with the idea that we shouldn't have to be sitting here, selling our beautiful handmade wares and competing with the trash and treasure, the imported and massed produced – there is no way that we were coming out winners… This is where our idea was sparked, this is what inspired us to start our market 5 years ago.
It didn't seem fair to compete – we figured that if the hall was filled with handmade, the customers walking through the door would appreciate handmade, love handmade and purchase handmade.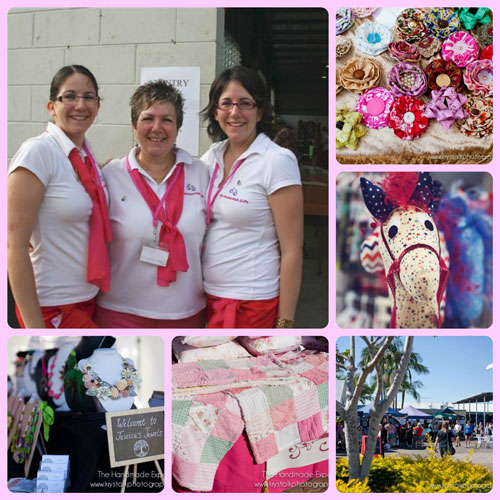 What is the most satisfying part of what you do:
The most satisfying part of coordinating The Handmade Expo Market is being able to provide an opportunity for micro/small and homebased businesses to showcase and sell their handmade items. We know how much time and love goes into each item, so to see a customer walk through the door and appreciate everything about handmade is amazing and totally satisfying.
Where and when can we find your market:
We have  6 locations in Queensland.
1. IPSWICH – The Ipswich Turf Club, Brisbane Road Bundamba (generally the 3rd Saturday of the month) 8am – 2pm
2. MORAYFIELD – The Morayfield Leisure Centre, Morayfield Road (Behind Bunnings) (generally the 1st Sunday of the month) 9am – 2pm
3. REDLANDS – The PCYC, Cnr Mt Cotton & Degen Roads, Capalaba (generally the 2nd Sunday of the month) 9am – 2pm
4. ROCKHAMPTON – The Rocky Showgrounds, Walter Pierce Pavilion, Exhibition Road Wandal (generally the 2nd Saturday of the month) 9am – 2pm
5. FOREST HILL – School of Arts Hall, Railway Street, Forest Hill (Lockyer Valley) – Twice a year in May and November – See website
6. BUNDABERG– AgroTrend (new showgrounds) Bundaberg- See website for dates & times
**(please check website for confirmed dates as sometimes they don't fall on the day of the month provided due to other events being held at our venues)
How can businesses apply to be one of your stallholders:
Just head to the our website where you can access all the guidelines and application forms.
Any personal or business highlights in the last year:
Expanding our market around Queensland. Going from one location to nearly 6 locations in less than 12 months and being embraced by the local communities.
Also meeting and being able to work with like minded market coordinators who are coming on board to share the passion of handmade.
3 things about us that people might not know:
 About us…
1. Our middle names are Rose, Claire and Naomi.
2. Liesa and Micky share the same birthday (2nd October) and Miriam and Husband (DAD) share the same birthday as well… So growing up as a family of 4, we have only ever celebrated the 2 birthdays a year.
3. Miriam owns a beautiful shop at Forest Hill in the Lockyer Valley called Mimmis.