Messy play may not sound like the easiest thing for mums, but there are some very important benefits to letting your little one enjoy messy play on a regular basis. When we allow children to explore their environments with their bodies, their brains are being stimulated in specific ways, which is important to their overall physical and mental development. Find out why messy play for littlies is so much fun for them, and pick up some helpful tips so that it can also be fun for you too.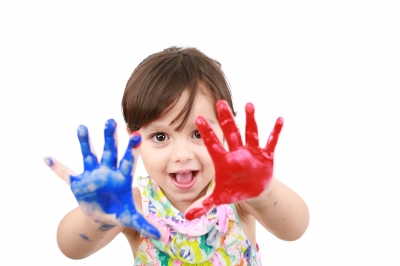 What is Messy Play?
Messy play is where young children are given the opportunity to play and explore their environment through their five senses. They are able to explore in their own way and at their own pace, and it is very much self-directed play.
The Benefits of Messy Play
Messy play helps children in a number of ways. It gives them an opportunity to relax and play creatively while learning about their surroundings. Experimenting with various materials and textures, such as water, paints, sand or clay encourages children to discover new things. As they spend time splashing, slopping, pouring, mixing and scooping, messy play also helps to develop a childs hand-eye coordination and gross and fine motor skills. Because messy play stimulates all of a childs senses at once, it can capture their attention and concentration for a long period of time.
Messy Play Ideas
Messy play can include almost anything that has taken a childs interest. It may be setting your toddler in a high chair and giving them some avocado or a fresh mango to squish through their little fingers and eat if they wish. It may involve a large piece of paper and finger paints. Messy play can involve water, sand, play dough or clay, with the child mixing, pouring, scooping or cutting. Setting your child in an empty paddling pool and giving them some bowls with dried pasta in it can keep her attention for a significant amount of time as she experiments with scooping and pouring dried pasta from one place to the next.
Combine these messy play materials with various sized cups, spouts, funnels, spoons and sieves, as well as implements for cutting, shaping and imprinting. Children will enjoy experimenting with all types of implements.
Make Messy Play Easy and Enjoyable
Children enjoy getting messy. Often we adults can only think about the cleaning up afterwards and resist giving in to letting a child indulge in messy play. We understand the cleanup that is required, from mopping tables and floors, to washing clothes, to getting food, paints or play dough out of their hair. But there are some simple ways to make messy play easy and enjoyable for those who have to clean up the mess afterwards. Plastic floor matting is inexpensive to buy and can protect carpets, tiles or wood floors from spills and splashes. You can wipe the mat down afterwards or take it outside and hose it clean.
Finger paints, clay and play dough can be kept off childrens clothing by putting long-sleeved protective shirts over the top of their outfits. Plastic art smocks and aprons are easy to wipe clean and keep your child dry if splashing around in water. You can even decide to put fun name labels on your childs messy play apron, so they know that when it comes time for messy play, the labelled apron is to be worn. Be sure to dress them in old clothes that you dont mind getting dirty or stained.
Dont be afraid to join in with your child in messy play. Let your child direct how they play and go along with their suggestions. It can be a great bonding time and your little one will enjoy your company and attention. Let them see you getting dirty, experimenting and being creative. You can always encourage conversation, learning, singing and discussion as you join your child in messy play.
____________
About the Author: Megan Jones is an early childhood education teacher who has been working with pre-school aged children for the past 11 years.
____________
<a href="http://www.bloglovin.com/blog/1703933/?claim=2d4srzqh56h">Follow my blog with Bloglovin</a>