Have you seen the very cool quirky Tee's from Momes? Australian designed and created, these little tee's are a funky addition to your little man's wardrobe.
We were lucky enough to road-test two of their designs this week – "Jean-Luc" – The Fearless Pirate and "Clint" – The Courageous Cowboy.
These are just two of the many designs you can find at Momes. Look out for the rest of their range like The Comedian, The Hipster & The Diplomat. You will find lots of cool mo's, top hats, glasses, eye-patches and cool characters here.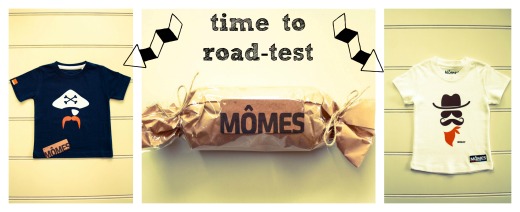 Momes (pronounced mohm) is French for 'little dudes'. This Australian owned children's t-shirt label is run by Chloe and Michael; Mum and Dad to two 'little dudes' .
Using eco-friendly products and 100% certified organic cotton t-shirts, Momes pride themselves in creating products that are made with respect and appreciation for the world our children live in every day.
Road-testing
The first thing I noticed about these Tee's (besides the very cool gift wrapping which I didn't want to mess up), was just how soft these organic cotton tshirts are. They are are a great size fit, sturdy and super soft and comfy.
The vinyl print designs are full of bold colours, seamlessly designed and very funky without a doubt.
So I roped in two little men to help me road-test these tee's and chased them around the park for a morning while they had fun playing in their new threads. After a million photos – they were just so cute; here are some of the images of their road-testing adventure!
More about Momes
Momes is French for Little dudes
All their T-shirts are 100% Certified organic cotton
Their sizes range from  18 months up to 5 years
They design all their artwork and vinyl prints in house
Are inspired by the French culture and their two little boys, and try to mix them in together.
Where can you find Momes
Etsy Online Store