Handmade Kids was the first to announce the launch of the iSew Academy. Since then there's been a buzz building around this revolutionary new sewing app. The iSew Academy is the first app to open a world of sewing patterns, projects, video tutorials – accessible anywhere on your iPad. If you haven't already, download the iSew Academy from Apple's App Store. If you're a new sewer, there's lots of help to tackle the projects. The instructions are written to an exacting standard by our Instructional Design experts.The videos produced by an award winning team and whilst the teams' credentials are good, their attitude is fun! This Academy is too cool to be a school!
Since launch, an update has been created to allow users to be notified when new projects become available.  All projects are accessed from the app's front page button – 'view projects'.  Already, the range of projects in the iSew Academy in-app store has grown to include the Montville Mini, Daintree Drawstring Dress, Happy Halter and the Hot and Steamy Ironing Board Cover. Next week should see some fabulous aprons in time for Mothers' Day!  All projects are priced between 99c & $4.99 which is amazing value considering you receive a pattern (often in a range of sizes) and professional step by step video tutorials.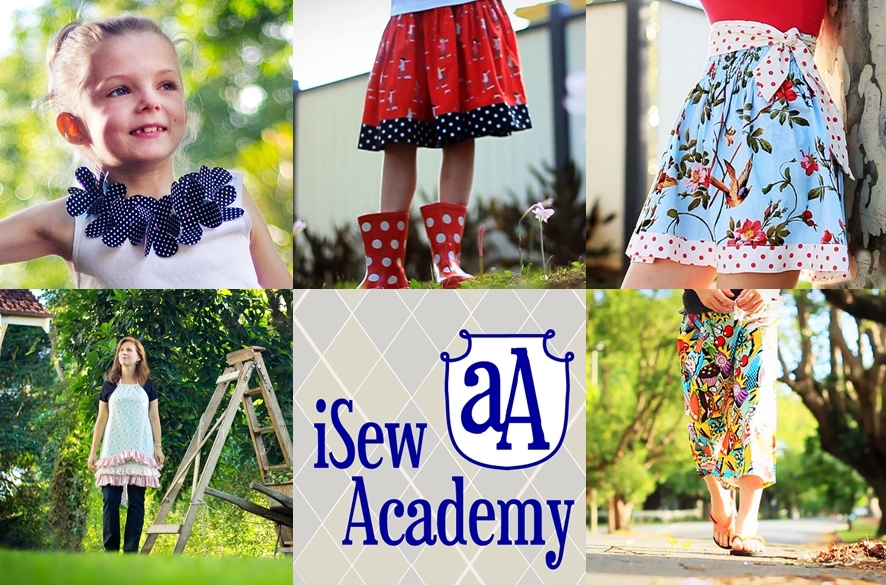 The IT Prefects at the iSew Academy have perfected a simple process for you to print your pattern pieces. It's super easy and before you know it, you are ready to sew. Here is where the magic really begins, pop your iPad next to your sewing machine and swipe your way through each step. The steps are complimented by clear, simple instructions, useful photos & video tutorials – where the focus is on what to do – not watching the instructor sew from a distance!
The videos are a really important learning component and as such Belinda and Louise made the investment in a high quality Production team, led by Drama Prefect, Pearce Hoskinson. Pearces camera & production skills were recently recognized as 3rd place winner at Tropfest 2012. (The worlds largest short film festival)
Coming soon are some great mum projects too – the Dolphin Watcher Dress and the Tangalooma Tunic.  New kid's projects include the Broadbeach Boardies, the North and South Straddie Shorts, the Woodford skirt. And for the men in the house – the Hop into Bed Boxers!
Professor Darcy has created this gorgeous Ring of Roses tank top. It uses the template and technique available in the Academy's pre-loaded project – the Noosa No Sew Fabric Flower.  Go to the website for the tutorial and make a gardenful of them today!
Apple's App Store: http://itunes.apple.com/us/app/isewacademy/id503759250?mt=8
Tutorial link: http://academyapps.com/Tutorials-pg20696.html
Website link: http://academyapps.com