In the world of arts and crafts, the only limitation you can encounter is your own imagination. Its virtually boundless, as almost anything and everything can be used for arts and crafts. Paper, wood, jars, bottles, vases, fabrics, balloons, and ribbons are some of the most frequently used materials for such activities and we've barely scratched the surface here. If you're into crafting, you may be looking for the best places to purchase supplies for these. Below, we've come up with a few ideas on where you could get the materials for your crafty adventures.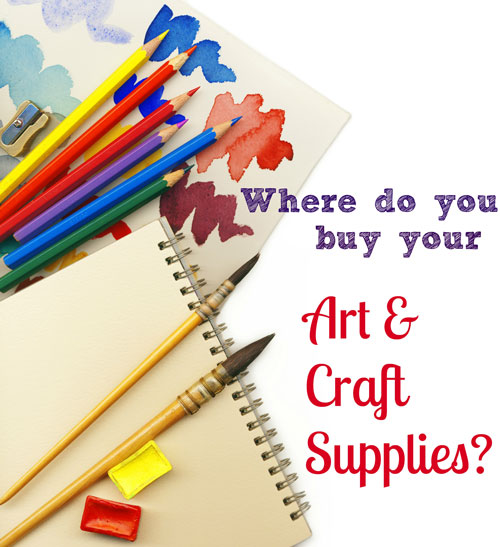 Online Stores
As you're aware, the internet has made many aspects of our lives a whole lot easier. Not your average place to source art and craft supplies, but it is the digital age and hence anything and everything can be purchased online "even from overseas websites! A little closer to home though is Australian site Quicksales which is an online marketplace which has a specialised category for Crafts and Hobbies. Its also a great way to view supplies interstate which you might not have been able to get your crafty hands on!
Aside from Quicksales, you can check out Etsy as well. Its widely regarded as an online haven for arts and crafts enthusiasts, and you'll surely find a lot of stuff in there that would tickle your creative fancy.
Thrift Stores or Craft Markets
All sorts of items find their way to thrift stores. Clothing, dinnerware, blankets, bags, and the like are some of the more common finds in these shops, some of which can be used in your creative endeavours. Sometimes, you'll also chance upon great artwork, quality beads, and fine fabric, among others. Aside from great buys, a visit to thrift stores could provide you with inspiration for your next arts and crafts project.
To find your nearest craft markets, you can use this site as a guide when searching for ones that are closest to you. Craft markets are also great ways to meet up with other craft enthusiasts in your area.
The Good Ole Local Crafts Store
If all else fails, there's still the local crafts store. Naturally, you can expect crafts stores to be packed with goodies – you name it, they probably have it. Eckersleys is one of the shops that you should visit" you'll love it. It has stores in several locations across Australia and specialises in kits, painting materials, and art books.
These are just a few Australian places to source your arts and craft supplies from, so if you haven't already, try them out, and don't forget to stay inspired and creative!
Where to Get Your Arts and Crafts Supplies
This post was made in collaboration with Quicksales.