WIN an amazing Craft Package this Mothers Day with Brother Australia
I'm so excited to be part of Brother's #BrotherMakesMemories competition for Mother's Day this year. Excited for numerous reasons – I love my Mum (hi Mum) and love making her something special each year, the prize package is so amazing (I'll get to that below), I get to help judge the competition (phew, no pressure) and I get to work with two other lovely bloggers – Retro Mummy and Hipster Mum.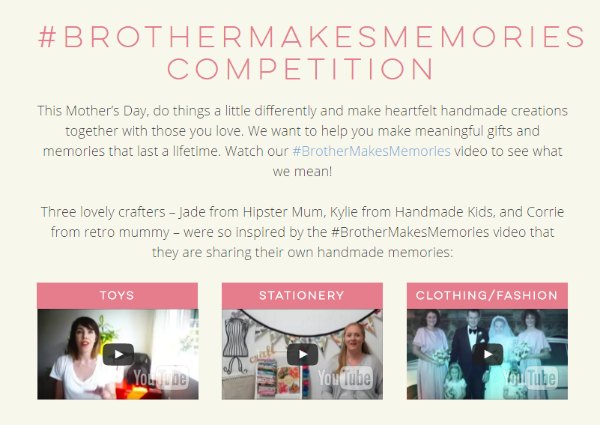 So how can you get involved in this great Competition. First step– head to the Brother Australia Facebook page and look out for the #BrotherMakesMemories competition tab – HERE.
Watch the three videos from myself, Retro Mummy and Hipster Mum, get inspired and get your 'craft on'!
Decide which video & project inspires you and start creating your own Mother's Day gift. You can either follow the tutorial directions for each project HERE or draw inspirational from the project and create your own gift staying true to the theme – Stationery, Toys or Clothing / Fashion.
You can see the three videos over on YouTube too –

Now for the prizes! There will be a winner from each category. How does this sound –
1. 1x Brother product depending on the category that the project falls under:
If the winner has made a TOY or CLOTHING/FASHION related project, they will win a Brother NS55 Computerised Sewing Machine, valued at $699
If the winner has made a STATIONERY related project, they will win a Brother ScanNCut CM900, valued at $699 
2. $3,000 voucher to cover up to one year's supply of sewing accessories or crafting/sewing supplies
3. One year subscription to Handmade Australia magazine, valued at $157.35
AND
ONE out of the three winners will be chosen as the Grand Prize Winner. On top of the above prizes, they will also get a special crafternoon with the corresponding blogger for up to 10 people, valued at up to $10,000!
So watch out if you are the Grand Prize Winner and you crafted up a stationery project; because you will be 'crafting on' with me and 10 of your best mates! Oh, what will we get up to!?
My special handcrafted gift is a Fabric Bookmark – perfect for my Mum who loves to read. Is your Mum a book-worm too? You can see more images and tutorial details – HERE.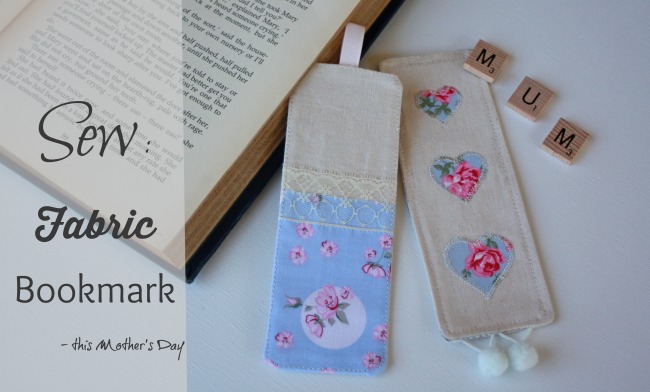 Can't wait to see everyone's entries!
So, good luck! Get cracking as entries close  2pm AEST on Tuesday, 3 May 2016. 
Happy Crafting!