Welcome to Day 3 of our Christmas Gift Guide series. Today we have the lovely Coopy Choo with her beautiful selection of handmade goodies for a White Christmas.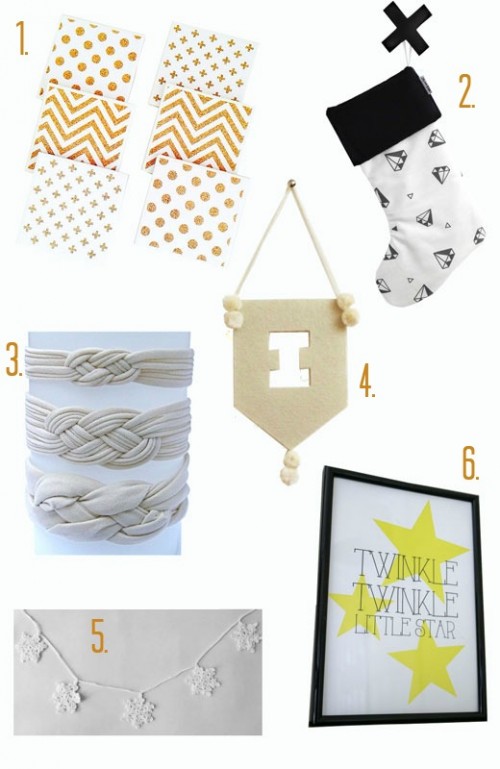 1- Gold Glitter Coasters from Studio Astratta –  One of my favourite handmade stores! I love the designs of her coasters. These make perfect gifts for any stylish ladies!
2- Diamonds Christmas Stocking from Chuck and Taz – Such a unique Christmas stocking suitable for anyone!
3- TopKnot Sailor Buttercream Headband from Top Knot Shop – Super super cute for your little girl!
4- Felt Hanging Flag with Pom Poms from Captain and Co – I love anything with pom pom and this banner is so adorable for any childrens room!
5- Crochet Snowflake Garland from Little Fox Crochet – I love the intricate detailing on the snowflake. Perfect for a white Christmas theme!
6- Little Star Print from Cookies and Scream –  Our favourite nursery rhyme. Itd make a great addition to any childrens room.
My name is Angela and in 2013 I became a Mum to Cooper " the name and inspiration behind Coopy Choo. He absolutely LOVES to kick & throw things from his pram and make a game of it. I became so tired of picking up blankets, toys, dummies " everything, that after looking around for something to secure his blanket & something to suit a fashionably savvy toddler, I decided to make my own blankets! From blankets my goodies evolved to bibs, teethers and recently some clothing.
Hope you enjoyed Day 3 of our " 12 Handmade Elves of Christmas. 12 Days of handmade gift guides " lets shop Australian Handmade this Christmas. #12handmadechristmaselvesHMK