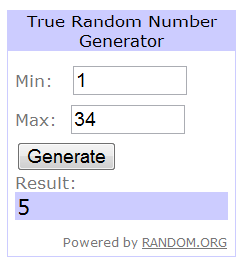 Was it you?
Congratulations Natalie  (comment "Beautiful designs!! I love Rue de Rouge, Follow The Yellow Brick Road, Penny Farthing and T-witt T-Woo Owl.")
Better watch out for your little one, they are going to stop traffic in their Toddler T's!
Keep your eye on your inbox for details on how to claim your prize.
A huge THANK YOU to Annabel for the FABULOUS giveaway and to all those who have entered and visited the Toddler T's website and Facebook page.
Stay tuned for our April giveaway starting on Monday 2nd. It is stunning!