I feel a bit deflated when I see mums with young children walking around wearing white and without a trace of dirt, snot or raspberry cordial on them.
I wish WISH wish I could do that! In a shop recently a sales assistant suggested I try on a white top and looked at me rather oddly when my sister and I burst our laughing at her – we thought it was some sort of practical joke! "Me? Wear white? Ha haahaaaaa". Then more quietly "ah, no thanks. I have a two year old".
And that was enough for her to understand that wearing white for me isn't a viable option.  She nodded at me understandingly and moved to the darker coloured items.
And there is the thought of putting my two year old in white! Ha! Another good one!! I'm afraid I am lacking in the soaking/washing/stain removal gene that my mother wishes I had inherited from her – so my wee man wearing white is also a no go zone.
But if I could, these are some white finds I would love to own!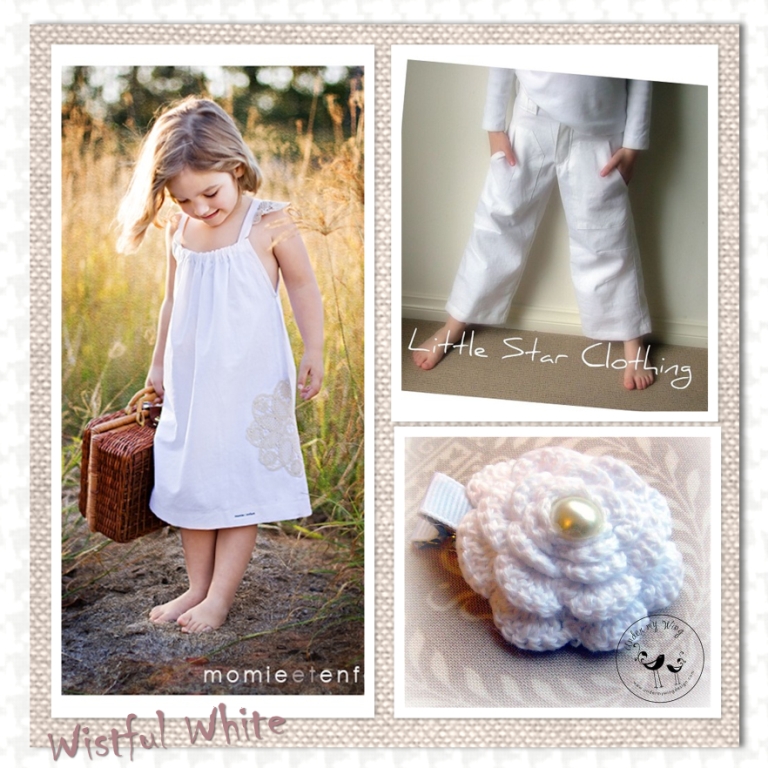 LUV Child – dress
Little Star Clothing – linen boys pants
Under My Wing – baby crochet hair snap
Stunning hmmm?
Caz x