Handmade Emporium is a treasure trove of sustainable, handmade and unique childrens things. Only the best, most beautiful and highest quality products are selected to grace the pages of the website, providing a relaxed and easy online shopping experience.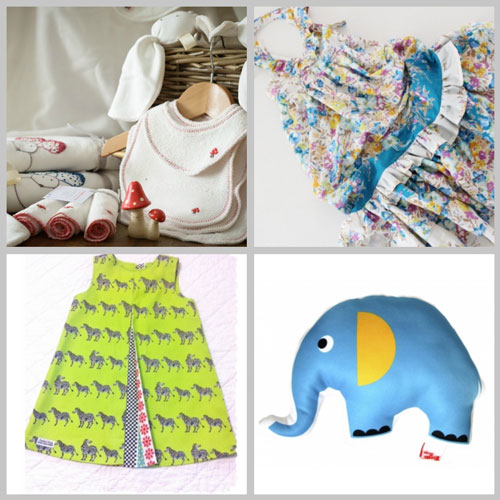 Handmade Emporiums brands for children include:
Toadstools and Tails (top left), with a range of the softest organic bamboo bibs, blankets and comforters in pure white with their signature embroidered mushroom logo. Such lovely gifts for baby girls or boys.
Scoops Design (bottom right) creates animal themed cushions and laser cut shatterproof mirror sets in colourful designs that will delight children of all ages. There are sausage dogs, dinosaurs, owls and monkeys for scattering on beds and adorning bedroom walls.
Apple and Soda (bottom left) and Bobishi (top right) make delightful dresses for toddlers and bigger girls. Their exclusive designs use fun and colourful prints and are beautifully handmade.
There are many more brands on Handmade Emporium just for children, all created in Australia by the clever crafters who embrace sustainability. Click here to discover more.

Guest Post written by Karina Reyne,  co-partner of Handmade Emporium, the hip handmade marketplace. Check out the best of handmade at Handmade Emporium