With a background in fashion/homewares Elizabeth Hampson from Sydneys Northern beaches has been selling handmade cross stitches which have been hung up in nurseries all over the world. She designed Flipsy Flopsy Dolls and couldn't resist starting something new. Hampsons Homewares only launched in June on Facebook and the orders have been coming through thick and fast ever since. She LOVES being a mum, working from home, sewing, creating, and being busy. She is so driven her poor husband bought her a week at Golden Door so she could relax and she refused to go! When not working she loves being at the beach with her family. Her husband is a flight attendant with Qantas so there is complete chaos behind the scenes.
Elizabeth loves the natural look and texture of burlap as it compliments the decor in most homes. Her designs are unique and truly original from the Kids Dictionary pillow to the Date of Birth cushion. The Dictionary cushion is a completely personalised product you email your childs name, adjectives to describe him/her and all their cute nicknames and Hampsons Homewares can produce a pillow you will treasure forever. They are the perfect gift for christenings or birthdays. She hand sews all the cushions and they are available with or without the inserts (save on postage).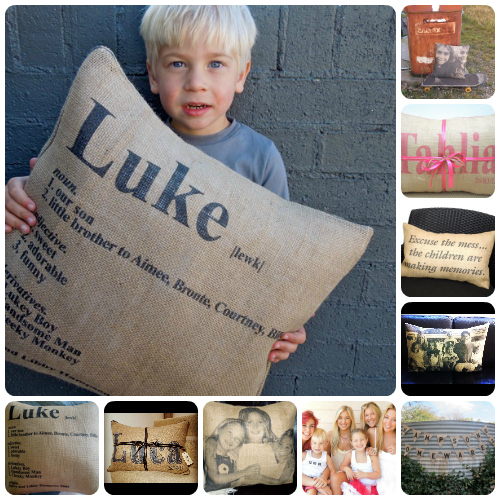 Since launching stockists have been approaching her to carry her range so it wont be long before you see her products in all your favourite childrens websites. Another service they provide is being able to produce one off designs, basically anything you would like printed on a cushion or canvas is possible, you send the text or an image and they can make it. Another great seller is the Photo cushions, if you don't have a digital image and would like to use an old photo out of an album just send it and it can be scanned and made into a cushion or canvas. The family cushions look amazing and are such a unique present for any family member. Recently did one for a Nonna's 80th and she loved it! She also has a wedding range and the postcode cushion makes a great present for anyone feeling a little homesick and living overseas.
Website is on its way but for now she can be contacted on Facebook "Hampsons Homewares" or email any enquiries or order to Elizabeth at hampsonshomewares@live.com.au.