lolli & bean has been bitten by the festive bug: some cuteness for bubs, a bit of vintage-pretty with a festive theme for girls and some gorgeous handmade crochet decorations for the home – both in traditional colours and with a bit of a beachy vibe, to suit our hot summer Christmas.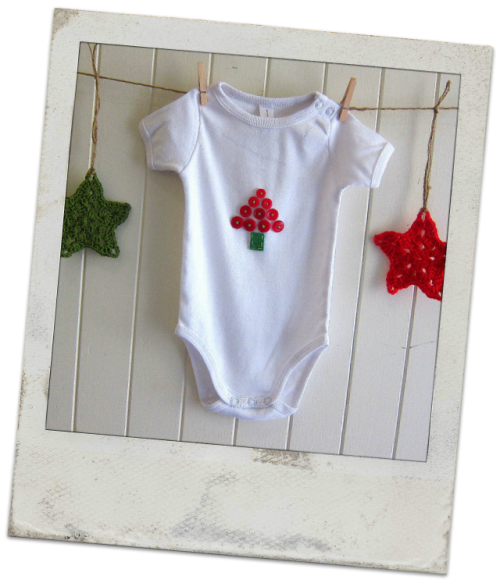 1. A little bit of festive goodness for your little one this year. This gorgeous bodysuit is perfect for baby's 1st Christmas and suits both boys & girls ~ for Christmas Day, for photo's, for parties, for the whole festive season ! Made from red buttons, bright olive green embroidery cotton, emerald green floral fabric. Price $18, in a range of sizes. Other colours available. Shop here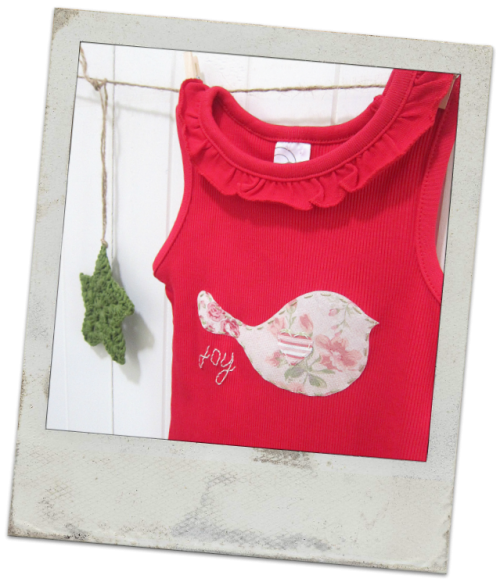 2. 'Peace, Love & Joy' for Christmas : Perfect for Christmas & the festive season, a gorgeous applique singlet with a pretty ruffle-detail neckline, featuring a 'vintage pretty' dove, with loveheart wing & hand embroidered with 'joy'. Representing 'peace, love & joy for Christmas'. Hand-stitched for extra charm. Price $18. A range of hair accessories to co-ordinate are available to match. Shop here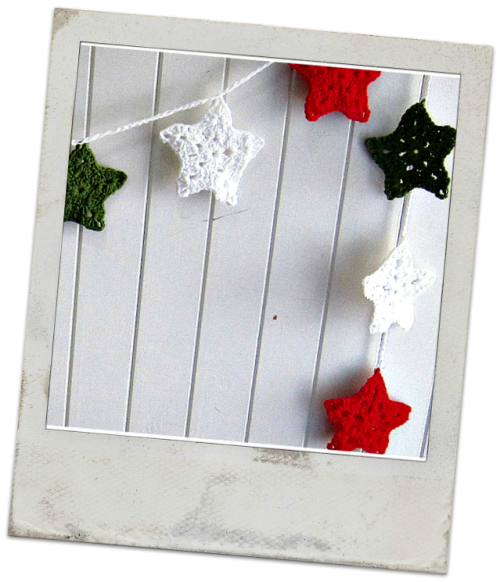 3. A gorgeous star garland – perfect for Christmas with it's traditional festive colours of red, white & green. Suitable anywhere in the home, so easy to hang or drape across anything that takes your fancy. A beautiful burst of colour & charm that will last forever. The garland is 190cm in length with 12 stars, including a generous length to tie at each end. Each star is approx. 10cm – bright white, rich olive green and bright red. Price $35. Other colours available. Shop here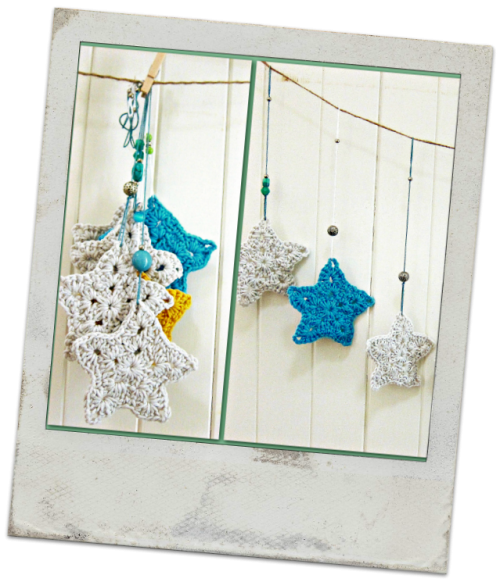 4. A pretty trio of crochet stars – perfect for the festive season, but really quite lovely all year round! These stars have been finished with pre-loved beads, to catch the light & lend a beachy-coastal feel. This set of three are all a very pale grey cotton, finished with teal cotton hanging string and a mix of bright turquoise and silver beads.
:: hang them on the tree, decorate a branch, sweet tied on twine as a simple garland or doorway feature ::
A star garland can be made to match, stars decorations are also available in aqua blue and golden yellow.
Each star measures approx. 10cm and the length of each string varies. Price $15. Shop here