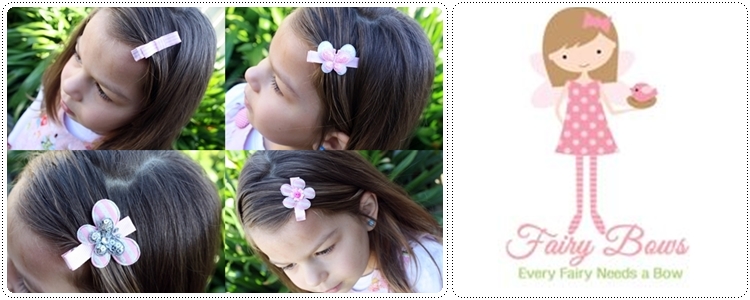 So as Fairy Bows' tagline says, "Every Fairy Needs a Bow"; and boy do they need a Fairy Bows Bow! The gorgeous Karen sent me a pack to try out on my daughter (and let me just say that my daughter has very thick hair) and I was so impressed. I have bought squillions of hair accessories for my daughter over the years, only for them to arrive and they either don't stay or her hair is just too thick for them. But these held up beautifully, with all the energy that a three year old has, they stayed in place.
The quality of Fairy Bows is also fantastic, these embellishments are not going anywhere. They are so neat, no bits of glue hanging around, the ribbon neatly lined on the clip.
Fairy Bows also come beautifully packaged , my daughters eyes widened with excitement when she saw her little pouch arrive in the mail.
I cannot recommend Fairy Bows enough, I know where I will be heading for more bows in the very near future. Very well priced, these would make beautiful little pressies in party loot bags or stocking fillers at Christmas.
To see the full range in stock head to Fairy Bows' store, you will not be disappointed.