It's that one space in your house where you can let your creative imagination run wild! A room full of  half finished projects scattered around, piles of craft supplies waiting to be whipped up into something special and ideas for future projects splayed across the wall with sticky post-it notes.
This is the room for creative mess, but it wouldn't it be great if that mess was somewhat organised so there was actually space to start those projects you have been wanting to create.
While there are lots of ways to organise your space and lots of supplies to be sorted; let's just start with 5 little ways to get you going-
1- Fabric Scraps
Now I know I'm not alone when it comes to having a fabric addiction.. One where I can not bring myself to throw out even the tiniest scrap of fabric. (I might need it one day right!?) I used to keep all my scraps in a big box all thrown in together, which over time became a knotted messy jumble. But recently I started to sort them into groups of colours and themes,  and now have them stored in small plastic drawers for easy access. And to make it even easier I have used my new Brother P-Touch labeller to label all the drawers.
2- Most used tools
To save time searching around your craft room for that ever elusive tool that you swore was at your sewing table or was it on the ironing board, or did you leave it back on your cutting table? Keep your most used implements in one container that you can move easily around the room but have them all together.
They might include your scissors, unpicker, rotary cutter, fabric chalk, tape measure, ruler – any of those tools you pick up and down all day long but always seem to misplace.
3- Sorting Threads
You need your threads handy and as close to your sewing machine as possible. You don't want to be traipsing across your room every time you need to change a colour. There are lots of ways you can sort your spools and bobbins, here's a few to keep them close by and organised:
sort them into small plastic drawers
sort them into a clear plastic box with segments
even a fishing tackle box could work
have a spare drawer in your sewing table – sort them into a draw organiser like you would for cutlery
create your own way to store your threads like the below creations- using dowel, nails, notice boards, wooden frames, embroidery hoops, picture frames, timber, even an old cake stand.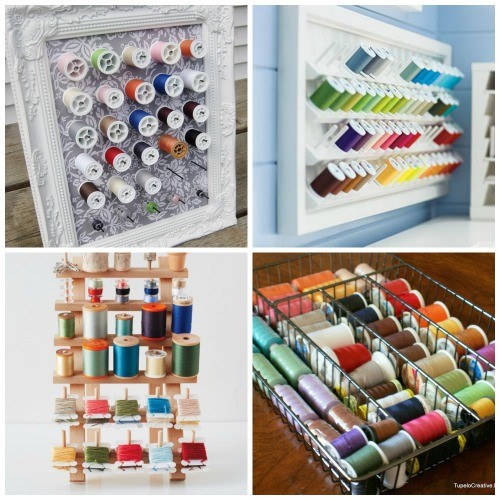 Picture Frame | Martha Stewart Craft Space Spool Storage |  DIY Spool Rack  |  Drawer insert
4- Use your walls
Don't forget your walls! There are so many different ways to make use of your wall space and techniques to use it. You don't necessarily need floor to roof cupboards for storage, why not try something different to store and sort all your goodies. Have you considered using-
shelves & planks
hooks & nails
rods & racks
cork boards
notice boards
pegboard
clipboards & pegs
magnet strips
baskets, tins and bins
hangers
crates
5- Bits and Bobs
What to do with all those random little bits and pieces that seem to gather in the craft room?? It's tempting to just pile them into a drawer and close it up- but why not put them on display in jars so they are visible for when you are looking for that little something to finish off a project.
There are so many great jars around at the moment- have you noticed. Every crafty, homeware and discount store has a range of mason jars sure to interest you.
Dedicate one shelf space to display all your little colourful treasuries – they could be buttons, off-cuts of ribbon, lace, fabric buttons, cabochons, crochet flowers, beads, washi tape, glitter, felt balls, stamps, paper clips, twine or pins. The list could go on forever.
 Craft Jar Storage ideas – from Craft Storage Ideas
5 Tips to Organise your Craft Room – what are your tips? Share your ideas below ~