Planning a birthday party for your little munchkin but overwhelmed with the number of themes and ideas to choose from? From princesses and pirates to mermaids and dinosaurs, there is certainly a plethora of fun themes that you can use as the inspiration for your child's next big birthday bash. If you're looking for just the right concept to make your child's party a memorable one, read on for 10 of the best ideas for a special kids celebration.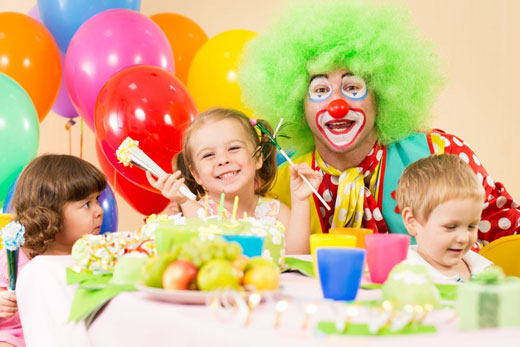 Pirates
Ahoy there, matey! A very popular theme for birthday parties, a pirate extravaganza is easy to create and lots of fun for guests too. To bring the idea to life, you can purchase personalised, pirate labels for kids invitations or lolly bags and create a birthday cake that is shaped like a treasure chest. Don't forget to have plenty of gold chocolate coins on hand for some extra pirate booty that will have the kids chanting Arrr! in no time.
Jungle
The perfect theme for children who love animals, a jungle party celebration is fun for a variety of ages and easy to coordinate. Purchase invites and disposable tableware decorated with jungle animals, and bake individual cupcakes iced with animal faces to create the theme. If you want to add an extra special touch to the party you could even hire a balloon artist for the event who can create take-home animal balloons in the shape of giraffes, lions, monkeys and elephants.
Dinosaur
Lots of little boys will roar with excitement at the idea of having a dinosaur-themed birthday party. Stationery and tableware that feature various dinosaur designs are readily available for purchase, while using lots of green and brown colours in the décor will also add to the Jurassic feel. You can even cut out zigzag scales from coloured paper and glue them on to party hats for an extra dino-mite touch.
Superheroes
What little boy or girl doesn't love to pretend to be a superhero? Let their dreams come to life with a birthday party themed around their favourite character (popular choices are Superman, Batman, Spiderman and Wonder Woman) or simply invite every guest to come dressed as their pick of hero. Whip up some fun capes and masks for the children to wear when they arrive and you'll have a party the kids will talk about for months to come.
Circus
Step right up to one of the best birthday party ideas for both little boys and girls. Add some circus revelry to your child's next birthday celebration with fresh popcorn or fairy floss, a clown-shaped cake and red and white striped decorations.
Ballerinas
Most little girls dream of being a ballerina at some point, and as a result, a dancing-themed birthday party is one of the most popular choices for a young lady's celebration. Ensure you choose candy-pink colours for your decorations as well as cute tutus and tiaras for the birthday girl and her friends to wear. Add a cake that is shaped like a pair of ballerina pointe shoes and they'll be twirling with excitement!
Fairies
Another party theme that calls for a lot of pink decorations, a fairy extravaganza is usually on most young ladies wish lists. Create the theme by stringing up multiple strands of twinkling fairy lights and soft, pastel-coloured lanterns. You can also present guests with a sweet pair of wings to wear on the day and fairy wands made out of lollipops or cut sandwiches on sticks.
Princesses
Whether you choose to theme your child's birthday party around a favourite character such as Cinderella, Princess Jasmine or Belle, or opt for a more general princess vibe, you're sure to find plenty of inspiration in books and movies. From cute tiaras and crown-shaped cookies for each guest to an elaborate, castle-shaped masterpiece for a cake, there are plenty of ways to bring a princess theme to a birthday celebration.
Mermaids
If your child loves to pretend she is Ariel from The Little Mermaid and wishes she had a tail rather than legs, then a mermaid-themed party is going to be the perfect choice. String up blue- and green-coloured streamers for an under-the-sea feel, top the birthday cake with a mermaid character and present guests with starfish- or octopus-shaped treats for a fun party that will make waves in all the right ways.
The Muppets
A quirky group of characters who have been popular for decades, The Muppets add some fun and hilarity to any birthday party for children. Decorate the venue with the colour green as an ode to Kermit the Frog or purchase pre-made invites, party bags and tableware that pays homage to a variety of the main Muppet characters.
________________________________________________________________________________
Sponsored Guest Post
About the Author: Ashley Collins is an event planner, blogger and Mum who enjoys creating the perfect theme for her children's birthday parties each year.
Hip, Hip, Hooray: 10 Best Party Themes for a Children's Birthday Bash