Tell us about your business:
little cloud factory creates handmade soft toys and accessories. I design my own softie patterns as well bring to life designs by others. Recently my range of handmade items has grown to include cushions, pin cushions and brooches.
What inspired you to start your business?
My first craft memory is sitting on my Nanas couch being taught to knit. Despite her patience and best efforts, all I could show for my  talents was a half-finished scarf and I later went on to dabble in mosaics, jewellery, clothing and scrap booking. After the birth of my first daughter in 2008, I started to read blogs and buy craft magazines and softie patterns to make toys for Michaela and her friends. My hobby quickly grew as I began taking part in markets and began a blog of my own.
Is there an interesting anecdote behind your business name?
Deciding on a business name took weeks! I bounced a lot of names around before finally piecing together little cloud factory. I wanted a name that reflected what was important to me in terms of my handmade pieces and that didn't limit me in the future; who knows I may have gone back to mosaics! Much like a jigsaw the name came together- little reflects my love of making things for little people and how important small details are in handmade creations. Every cloud is unique, as is every item I make and with a young family, I love to escape to my little corner of the house, my factory.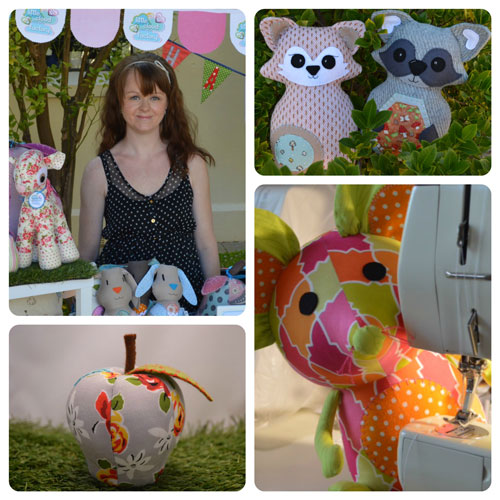 What is the most satisfying part of what you do?
I love seeing a new design literally take shape as the stuffing goes in and the little personality reveals itself. I love participating in markets and meeting new and repeat customers. I also feel very honoured to make gifts destined for new babies, first birthdays and other special occasions.
Have you tried something in business that didn't work as planned, or on the flip side " worked out better than expected?
I'm always playing around with new ideas, making one off items and then planning to tweak them, only for them to stay on the shelf while I move on to the next idea. There have been a few softie and decorative pieces that I have made, and loved, but they simply haven't sold at markets. This can feel a little discouraging but I prefer for it to motivate me to try something else.
What would be your best tip for someone thinking about selling their handcrafted goods?
I feel that it is important to continue honing and developing your skills to ensure that your work stands out for its quality. The handmade community is wonderfully receptive and helpful so be open to advice from others. Sell online, apply for markets, connect with other like-minded people and give it your best.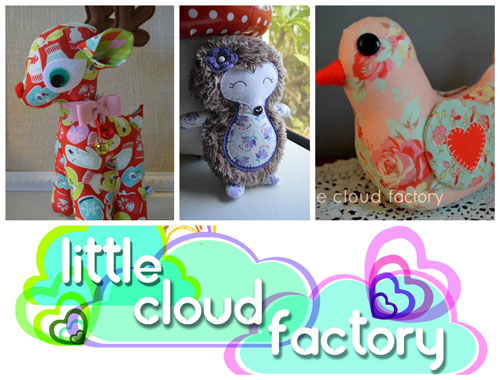 What is your favourite item you make?
Difficult question, my favourite item changes regularly. Quite often using a new fabric or a change to an existing pattern will result in a new favourite. I just recently designed and made two ˜winter softies, a fox and raccoon made from wool fabrics and felt. They are currently keeping me company on my craft desk.
Any personal or business highlights in the last year:
The most exciting development for my business this year was the creation of my website. The fact that little cloud factory has a little corner of the internet is pretty awesome.
3 things about you that people might not know:
I speak Italian and taught mainly high school students for eight years prior to motherhood. I have been to Italy five times as a student, back packing with my now husband and leading a group of 14-16 year old girls!
My program of choice when sitting down to stuff and hand stitch is Grand Designs.
I love painting walls! I'm totally content with a tin of paint, brush and a few hours to totally change a room in my house.
Meet the Maker – Little Cloud Factory