Today we have the pleasure of getting to know Jen from Pikelet Workshop a little bit better. Jen is an Aussie that has recently moved over to the other side of the world Canada! So Jen….
Tell us about your business:
I started my business in 2010, having always wanted to do something crafty for a little bit of money. My first soft toy was so popular with friends, I was encouraged to start a Facebook page for it which went nuts! I continue to make a version of those first toys, called "Poppets", and have had a wonderful response from the public. It's tough to juggle a small business with the demands of parenting and home and self, and I rarely feel like I have that figured out. It's a work in progress.
What inspired you to start your business?
I've always been a bit 'crafty'. My mother taught me to sew when I was a teenager, and I admit to having a fairly sizeable addiction to fabric. Around the time my daughter was born, 7 years ago, the independent craft industry was emerging. It was a revelation to me, and such a relief to be able to 'come out' as a crafter. No longer considered an activity just for Nana, I found it so inspiring to see what people were making and felt strongly that I could come up with something of my own. But it wasn't until my daughter started Kindergarten that I found the time and mental space to start.
Is there an interesting anecdote behind your business name?
A business name is just so darn difficult to come up with. Initially, I wanted to put my daughter's name into it but am glad I didn't. With increasing notoriety comes the need for privacy and I really prefer not to use my family's real names in my blog and business life. I also wanted a business name which could stay the difference, no matter what direction my product took but I knew I wanted to aim my products at children. I needed something small and sweet, hence the 'pikelet' and wanted to allude to the creativity and the making as well, which led me to use the word 'workshop'
What is the most satisfying part of what you do?
So much about what I do is satisfying. From having an idea and seeing it to fruition, to people wanting to plonk down their hard-earned cash for it. That still amazes me. On a personal level, I have made the most incredible friendships and connections since starting pikelet workshop. I didn't expect that. A very big chunk of my friendships exist only in cyberspace, and they are the mainstay for people who work alone from home. It's such a potential vacuum, but the input from these friends keep me buoyant. I have also managed to snag the most loyal and supportive customer base as well. They are just gorgeous and so supportive and patient. Setting up truly rewarding online relationships can be a challenge, it's probably my main source of satisfaction these days.
Have you tried something in business that didn't work as planned, or on the flip side – worked out better than expected?
I guess there are always products which don't work out as expected, and some don't sell as well. I've been very lucky that most of my stuff seems to work out. If I had time to be more prolific, no doubt I'd experience a lot more 'failure' in that area. I'm not afraid of failure, risk-taking is very important for growth. My biggest challenge lately has been to move to Canada from Australia and get the business up and running again. That could have been a disaster. Would people still want to buy my products when they had to pay more for postage? Would the local industry have room for me? I've had to push a little (both socially and professionally) to make myself at home here, but I've experienced such welcoming attitudes. And my following in Australia haven't disappeared, they've stuck around and that's been incredibly reassuring. I probably have even more confidence in myself as a business person now, because I took a risk and it all worked out. Usually it does but you only learn that if you try.
What would be your best tip for someone thinking about selling their handcrafted goods?
Integrity is probably the most important part of having any business. Start as you mean to go on. Don't copy someone else's work, don't say anything in a public forum which you wouldn't say in person. I see so many people making idiots of themselves on their Facebook pages or blogs, seeming to either not realise or care who reads it. That can be death to your business.
Ask for help, ask for advice. You'd be amazed how many people will respond to your questions with gusto, they've all been there. There's something very satisfying about mentoring another person through their own creative journey, you can learn a lot in return. I always try to respond to emails and questions, and I certainly have a lot of them for other crafters (usually computer related, d'oh).
My other comment is about pricing. If you are really serious about selling a product, please, please, please don't sell it for peanuts. For one thing, you are going to find it very difficult to bump your prices up later and for another, you are undervaluing the entire industry. If I sell a piece for $60 and you sell a similar one for $20, the customer receives a very confused message. If you're worried about your product's value, then make sure it's amazing before you sell it. Work very hard on the detail and the workmanship, then get someone you trust to give you some feedback. Remember too, that your customer often has a different shopping budget to your own. They see a great deal of value in something which is handmade, usually because they either can't or don't have the time to do it themselves.
What is your favourite item you make?
7. Favourite item? You're killing me! I love my Poppets, but I guess I'm most excited about some of my new Christmas pieces. I'm working on a range of smaller felt ornaments and have also come up with the Wishing Tree. Your kid can write a note to Santa, roll it up and slip it into his back pocket, then hang him up. I rarely get to work with felt, so I'm really enjoying this process. There's something about cute handmade things for Christmas, I get a very strong response to those products in particular.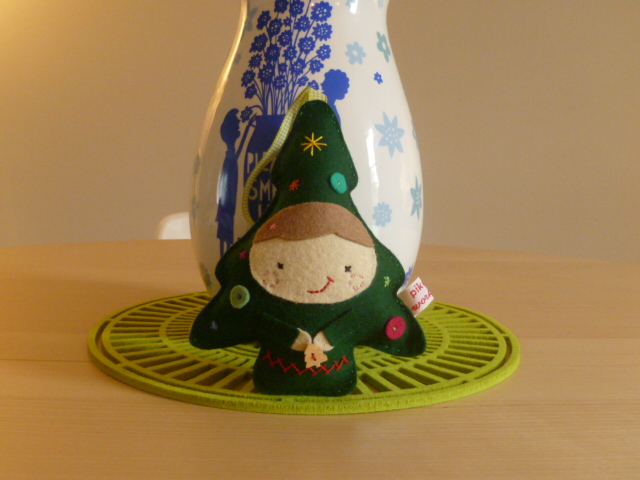 Any personal or business highlights in the last year:
Well, I think a successful move to the other side of the world is probably enough of a highlight for most. Lately, I'm really excited about set ting up a new Pinterest board called "Pin-ups" in which a group of fabulous friends select their favourite pins to share. We're working on new themes for each month and hope to source lots of crafty inspiration for our own readers/likers. The networking this has already created is very cool and exactly what I'd hoped for. I love the internet. Love, love, love!
3 things about you (not business related) that people might not know:
Hmm, I talk so much about myself people probably already know it all! Jokes aside, I had a hip replacement almost three years ago. That wasn't much fun. I really really want a tattoo, but can't quite decide what to do about it. I also play piano and have a reasonable singing voice, but you'd have to be either my offspring or my husband to get a glimpse of that!
Thank you Jen, it was a pleasure to meet you, the maker!