Today we have the pleasure of getting to know Tanya from Ruby & Sam a little bit better, so Tanya….
Tell us about your business:
I make leather booties and shoes for little and not so little ones (my four year olds still wear my shoes in rotation with other harder soled shoes). I also make clothing for my own children and the shop. I love the preppy, nautical and vintage looks. I dislike the look of overlocking so all my garments are heirloom seamed for looks and it gives them a comfortable feel and strong quality finish.
What inspired you to start your business?
I love making shoes, clothing and hair accessories for my own children and when their wardrobes started bulging I needed to find another home for the overflow
Is there an interesting anecdote behind your business name?
The store was named after my twins who are both my muse and helpful models
What is the most satisfying part of what you do?
Knowing that I've made something for somebody that they couldn't find elsewhere and being able to dress my own kids as I'd like them to be dressed – comfortable with a touch of vintage

Have you tried something in business that didn't work as planned, or on the flip side – worked out better than expected?
The one 'in person' market that I did last year was an outdoor Christmas market, which the previous year had been a rousing success in terms of sales and fun, but this time around we arrived and set up in torrential rain, it continued to rain for the next 2 hours and the satellite said that it was going to continue so I packed everything up again and went home with only 2 sales. The other ladies around me were lovely but it was heartbreaking for the amount of time and preparation work that had gone into getting ready beforehand
What would be your best tip for someone thinking about selling their handcrafted goods?
Ensure you love what you make, test it to ensure you're selling a quality product and don't be afraid to let people know what you're doing, word of mouth advertising is priceless
What is your favourite item you make?
I'm loving working with a small amount of Italian leather that I recently purchased, it's beautifully soft and feels so indulgent to make my kids leather appliqued/velcro wrist bands and tiny birthday crowns. It's too soft for walkers but lovely for younger babies. I love this version:

I also have a very soft spot for all versions of the doily covered leather shoe like this one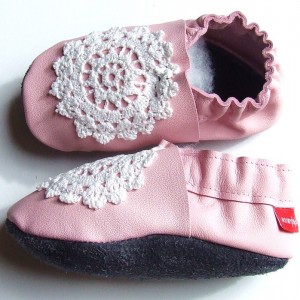 Any personal or business highlights in the last year:
I love seeing my items beautifully photographed and have been lucky enough to be well supported by My Child magazine, it was a real honour to be contacted by email by the stylist on behalf of herself and the editor who requested 5 shoes specifically designed for possible use on the cover model. Unfortunately for me the cover option where the baby was barefoot won out but they were kind enough to promote me on their Facebook page instead.
3 things about you (not business related) that people might not know:
I sew while sitting on the floor and my kids tend to sit with their backs to mine doing their 'thing' while I do mine
A bag of pineapple lumps or a batch of homemade chocolate fudge tends to disappear very quickly around me
In my pre-kids days I used to go to the gym 3 times per day, before work, lunch time and after work, play lots of sports and completed 2 half marathons, 1 off-road marathon and a 2 day multi sport event from one side of NZ's South Island to the other
Thank you Tanya, it has been a pleasure meeting you, the maker!